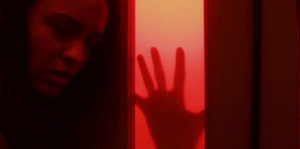 "Hospitals," my great grandfather would aver, "are a good place to get sick." He lived in the Washington Heights neighborhood of New York and saw people enter the local hospital, Jacoby, and never come out again. In the 1970s, when he finally succumbed to various bodily deterioration, he too was admitted to a hospital and never left.
Recently, I admitted myself to the local hospital and was forced to remain there two days longer than the surgeon intended. I suffered an abscess in my posterior and was supposed to be hospitalized for four days; instead, a urologist derailed the plan by claiming to see something wrong with my prostate. Two days later, the urological surgery team admitted there wasn't much they could do about this. My options were to let them aspirate the issue with a truly massive needle or take my time and see if antibiotics would ameliorate the problem. Naturally, I chose the antibiotic route and got the hell out of there.
All this is to say Harmony, written by director Zack Gross, Micah McFarland, and Nathan McFarland, has really captured the creepy, mysterious, and unknowing fear vibe one experiences these days when in hospital. Post-Pandemic, at least for me, there is no more terrifying place. Sofia Gonzalez (the deeply probing Marili Kateri) clearly shares that emotional experience. She has been recently hospitalized at Harmony for life-threatening injuries to her arm suffered in combat. While we do not get a clear sense of when this film takes place on the timeline of America, it's clear the country has splintered, and there is an all-out war between the Federal forces and the former states.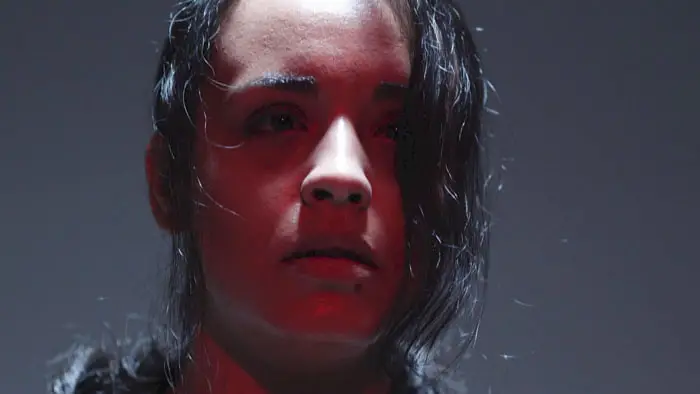 "…Sofia and her concerns about what's being done to patients at Harmony."
While hospitalized under the care of the secretive Dr. Ranson (Jessica Inzeo), security cameras constantly monitor Sofia. She is prescribed a pill regimen to take, allegedly to handle the pain. Further, she experiences an ever-increasing battery of psychological tests. There is something deeply uncanny about the process of being treated at Harmony. For the majority of the film, audience members can tell Sofia's hackles are raised, and she is constantly on edge.
While hospitalized, Sofia interacts with two patients, Erik (Mark Frazier) and Charles (Pry'ce James). Erik seems to act as a voice of reason and a medium to soothe Sofia occasionally. On the other hand, Charles is wracked with guilt. He was deployed with 300 men under his command and only managed to keep 24 of them alive. This clear PTSD haunts Charles at all times and makes him both volatile and unwilling to engage fully with Sofia and her concerns about what's being done to patients at Harmony.
Harmony is Zack Gross' first feature-length film. He has created a taut, suspenseful piece of science fiction horror in collaboration with his team. This would be a good companion to Spiderhead (2022). If you're looking for a probing piece of medical suspense wrapped in a light science fiction trapping, this is the film for you.