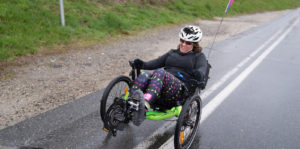 SANTA BARBARA INTERNATIONAL FILM FESTIVAL 2023 REVIEW! I've heard of amyotrophic lateral sclerosis (ALS) before, but admittedly I did not know much until Miriam McSpadden and Brian Beckman's inspirational and insightful documentary Go On, Be Brave. The movie's subject is the courageous and charismatic athlete Andrea Lytle Peet, who amazingly attempts to be the first person with ALS to compete in a marathon in all fifty states.
ALS robs people of their ability to walk, speak, feed themselves, and ultimately use their lungs, all while the mind stays as sharp as it was before. It's heartbreaking to watch Peet and others go from being such active, independent people to suffering from this debilitating disease. The athlete was diagnosed with the condition at the young age of 33 and found out that many people die within the first five years of being diagnosed.
That life expectancy is a major marker, so she decided to take on her near-impossible challenge after five years of living with ALS. It's impressive for anyone to complete a marathon in every state, let alone someone dealing with ALS. Peet's supportive husband, David, is just as impressed, although he knows precisely how incredibly resilient his wife is.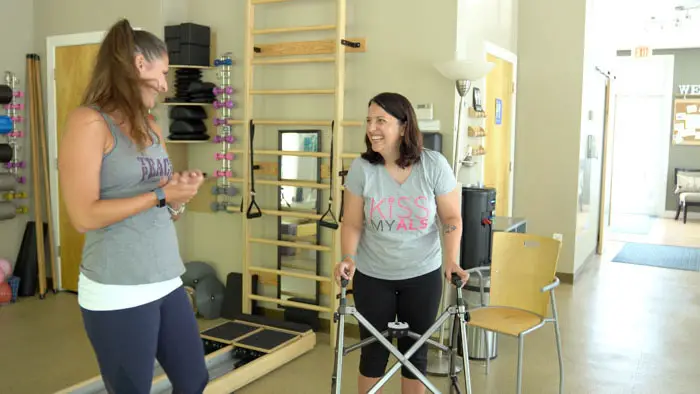 "…attempts to be the first person with ALS to compete in a marathon in all fifty states."
Another interesting (and cruel) fact I learned from Go On, Be Brave is that athletes are more prone to getting ALS. People who played a varsity sport in high school are twice as likely to get it than those who did not. Peet specialized in triathlons previously, doing one more after being diagnosed. Doctors quickly point out that this doesn't mean people should avoid sports or exercise because the chances of getting ALS are still so low, as there are fewer than 20,000 cases per year in the States.
I have to say that the inspiration of the motion picture and Andrea Lytle Peet's spirit and determination floored me to the point of joyful tears. Despite every reason to feel otherwise, she stays generally positive, good-natured, and strong-willed. There's one particularly touching scene near the end where Peet is struggling up a gigantic hill with her husband by her side. A group of friends rush over, provide encouraging words, and then start singing the Rocky theme. Rocky ain't got nothing on Andrea.
Kudos to McSpadden and Beckman for documenting this story while following Peet for over three years. The production schedule included filming during the pandemic lockdown. And we all know that there wasn't much of anything happening during those dark days. The film forces you to take a closer look at your life and makes you realize that your challenges don't amount to a hill of beans compared to someone dealing with ALS.
I'm told that Peet and the movie received two standing ovations, and she rolled down the red carpet in her trike at the world premiere of Go On, Be Brave. I would have loved to have seen it. She's such a hero and a role model, and so much more deserving than the typical athletes that we grow up idolizing.
Go On, Be Brave screened at the 2023 Santa Barbara International Film Festival.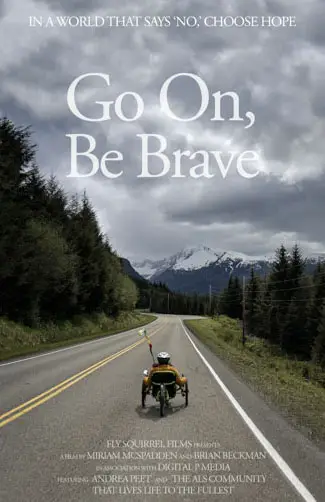 "…forces you to take a closer look at your life..."