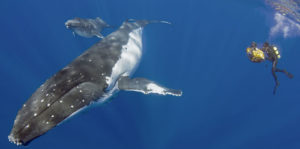 SANTA BARBARA INTERNATIONAL FILM FESTIVAL 2023 REVIEW! I'm an avid scuba diver, so I watch a lot of movies about the ocean to learn more about what I see on my trips into the big blue. Soul of the Ocean is easily one of the best undersea documentaries I've ever seen. Director Howard Hall and his wife, producer Michele Hall, have delivered something thrilling, beautiful, educational, and hopeful. While most nature documentaries focus on the drama of predation, here, the Halls emphasize how undersea creatures relate to each other by examining group behavior, symbiosis, and ecosystems.
Hall mentioned that in his long diving career, he rarely sees animals trying to eat each other, yet he sees examples of cooperation and interdependence everywhere. In that sense, Soul of the Ocean presents a truer vision of life under the water, although it is no less dramatic than something you might see on Shark Week. We still get to see sailfish packs hunting rapidly, flitting schools, and signaling their attack by changing color. Or an angel shark bursting forth from being buried on the sea floor, surprising would-be prey. But even more impressive is the incomprehensible majesty of the blue whale gulping 200 tons of water at once.
On the other end of the size spectrum is the overwhelmingly endearing interaction between the goby fish and pistol shrimp. The shrimp digs out and maintains a burrow on the ocean floor but has poor eyesight. So it lets a goby fish in, who is fond of sitting nearly upright, poking its head out like a prairie dog. The shrimp always keeps an antenna on the goby fish, so when the goby fish darts down at a sign of danger, the shrimp reacts in seconds. Since the shrimp never leaves, scientists weren't sure what it eats. But the filmmakers caught it — the shrimp eats the poop of the goby fish!
"…how undersea creatures relate to each other…"
So many of the interactions caught on camera here are truly magical. But what's even more astounding is that they are so beautifully shot and lit. Hall and his crew are really at the top of the cinematography game and under extraordinarily difficult conditions to boot. They recorded all over the world for about a decade to pull this off. Just imagine going out, only to have poor conditions so you can't dive, or the image is too murky. Or dutifully camping out, dive after dive, at a known habitat, an hour at a time, until exactly the right interaction occurred. Of course, there is a certain joy and wonder in seeing things yourself underwater. But in a lifetime of diving, you could never see as much as Hall captured here. Add to that that the Halls consulted with marine biologists, so we're getting cutting-edge science too.
Of course, Soul of the Ocean addresses the harm we're doing to the ocean through garbage and global warming. But it puts this chunk in the middle, so it can come back to a more hopeful message by the end, putting the animals front and center. The conclusion is also a little whimsical, allowing some of the divers in the shots, giving us a brief glimpse into the fun and hard work of making the film. A diver and cinephile, like me, especially one who has also had to act underwater while being filmed for a show, will not get enough of it.
Soul of the Ocean is 78 minutes long and delightfully narrated by Jonathan Pryce. A trimmed-down version is playing on the PBS show Nature, specifically Season 41, Episode 6, narrated by Norma Dumezweni. I'm sure it's fine, but you should check out the original and see it on the big screen. I guarantee you'll be impressed.
Soul of the Ocean screened at the 2023 Santa Barbara International Film Festival.
Header Image: Director of Photography Howard Hall filming a Humpback Whale mother and a calf. Tonga. Credit: © Michele Hall.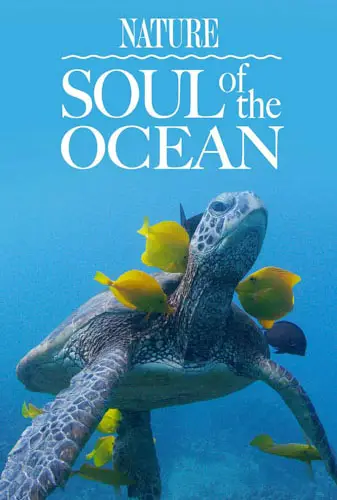 "…one of the best undersea documentaries I've ever seen."