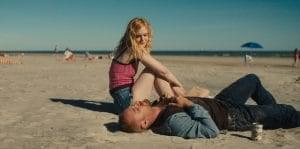 If you're going to tell a story about a dying, two-bit criminal and a perennially victimized, nineteen-year-old prostitute, Galveston is as good a place to tell it as any. It's an island that lost out to Houston long ago in the battle to become the hotspot of Southeast Texas, due in no small part to the hurricane in 1900, which is, to this day, the deadliest natural disaster to ever hit the U.S. After that, everyone with the means to do so went north for Houston, where a hurricane could still ruin your life, but maybe not end it.
I guess you could say Galveston has a black cloud over its head, which brings us to Roy Cady (Ben Foster), an angry, violent, self-pitying and, by all accounts, bad man. Cady is diagnosed with lung cancer, and his first reaction is to storm out of the hospital and light a cigarette. A low-ranking member of the local mob, he receives a job, but it ends up being a setup—crooks can be so unreliable. Because he's just a little more vicious than the next guy, Roy makes it out alive and takes a young woman with him, who was inadvertently caught in the crosswinds. The young woman is Raquel Arceneaux (Elle Fanning), a hooker with a past that hasn't done her any favors. Together, they become cohabitating runaways and hole up in Galveston, where they, proverbially speaking, try to shoo each other's flies away.  
"…a dying, two-bit criminal and a perennially victimized, nineteen-year-old prostitute…"
Galveston is a feral, gunk-under-your-fingernails kind of story, featuring characters who were kicked out of a Springsteen song for being too irredeemable. There's an admirable willingness to not make Roy a miscreant with a heart of gold, which is how these stories usually go. He's very much a scoundrel, but that's okay, because nice people are boring. Foster and Fanning both go a long way in breaking their characters from their thick, archetypal shells, even when the movie itself is restraining them. For instance, there's a scene at the end where the movie attempts to cash more chips than its earned and, as a result, it comes off as soapy. Nonetheless, Foster almost makes the scene work, in the subtle way he wants to make eye contact with the woman across from him but doesn't know if he's worthy.