In Planes, Trains, And Automobiles, the brilliant John Hughes comedy, Neal (Steve Martin) has finally had enough of the meek Del (John Candy) and goes on a tirade toward his unwanted traveling partner. The insult-laden diatribe goes on for a bit, the main gist being, that Del, a big talker, and all his anecdotes should "…have a point. It makes it so much more interesting for the listener!" I feel this exact way about Itzhak, a new feature-length documentary about famed violinist Itzhak Perlman.
The movie opens with Perlman and his wife, Toby, visiting a ballpark in New York City, where they reside. Therefore I assumed the film was about a pitcher or a great batter that has an unbeatable legacy. Imagine my surprise when, lo and behold that is not who Perlman is, nor what he is known for. Itzhak Perlman is a famous violinist with numerous Grammys, Emmys, and other accolades. In 2015 then-President Obama awarded Perlman the Presidential Medal Of Freedom, the highest award a civilian can obtain in the United States.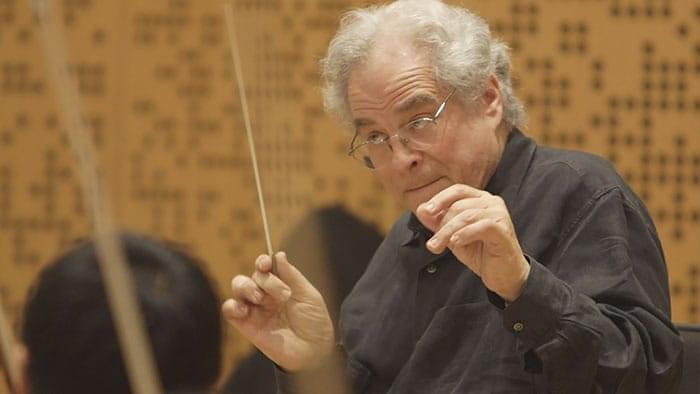 "…Itzhak Perlman is a famous violinist with numerous Grammys, Emmys, and other accolades…"
As I was doing basic research, after my initial viewing, to put the movie into a proper context, I find out that there are so many amazing things Perlman has done or helped with, so many inspirational people he has collaborated with, and so much more to him than this documentary could be bothered to explore. The Perlman Music Program is a year-long chance for young students with impressive musical skills to study with Perlman directly and helps to keep the arts alive in public schools. The program is barely a minor footnote in this documentary. He also began conducting in 2000 and is the artistic director for the Westchester Philharmonic. These two things are present in the film whatsoever.
The documentary boils down to overly long moments of him playing the violin, masterful at it though he is, and nothing much about his life or upbringing. Noteworthy things the audience does find out are- he and his wife are very much in love, they are both baseball fanatics, he walks with braces on his legs, his parents moved to the US in the mid-1930s from Poland, and they made him practice all the time. Sadly, viewers will glean remarkably little else of substance about the big-hearted man throughout the movie's interminable 80 minutes.
An excerpt of an interview and performance on the Ed Sullivan show when Perlman was 13 years-old is glimpsed 20 minutes in. This is the first time Itzhak brings up the fact that he began his musical career as a child prodigy. The interview from 1958 should have been the opening of the movie. This would set-up who he is, juxtaposes the younger and older self, tells the audience he is famous and has been playing for a long time. Instead, the movie just watches his daily routine, shopping, going out with friends, tuning his instrument, and absolutely nothing else.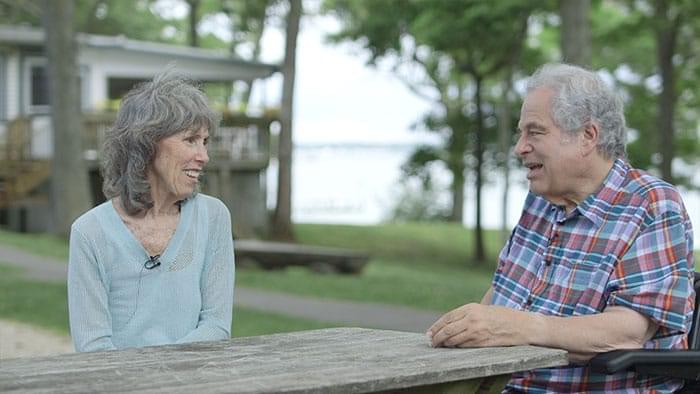 "…whose…contributions to the musical arts cannot be overstated."
As directed by Alison Chernick, Itzhak keeps running into this exact problem. The camera continuously follows him around, as if a puppy longing for constant attention from its new owner. There is no point to most of these scenes, other than to showcase that Perlman can, in fact, cook soup. Doesn't that sound much more engaging than discovering how at age 4, he contracted polio, survived, and that is why he moves around in an electric wheelchair? Or how he was denied entry to the Shulamit Conservatory at age 3 for being too small to hold the violin? Wouldn't you rather watch Perlman's assistant shovel snow off the sidewalks so he can continue down the road? I wish I could tell you the point of that scene, or the moment when Toby calls someone and discusses the recipe for the dinner she is cooking. Much like Neal to Del in Planes, Trains, And Automobiles, I want to yell at this movie to have a point already!
Itzhak Perlman is a larger-than-life figure with amazing talent, a personal life full of tragedy and hope, and whose many contributions to the musical arts cannot be overstated. It is too bad then that Itzhak, the documentary, has so little interest in the life of its titular subject and is so narrow in scope that the most a viewer comes away with is that Perlman is best friends with Alan Alda. Perlman's life, career, and accomplishments deserve a director that is genuinely interested in him and his story.  Chernick is not that person, and the movie is a plodding, meandering mess because of her lack of clarity or insight.
Itzhak (2018) Directed by Alison Chernick. Staring Itzhak Perlman, Toby Perlman.
Grade: D