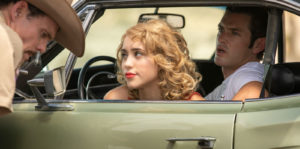 The Boondock Saints actor Sean Patrick Flanery's feature film debut as a director, Frank & Penelope, is a callback to the rebellious outlaw attitude of certain movies of the 1990s, such as True Romance and Thelma and Louise. Written by Flanery, from an original story by John Thaddeus, the picture is an offbeat, twisted thriller about love, violence, psychopaths, and redemption. Of course, this type of film isn't for everyone, but that's what indie filmmaking is all about.
The movie kicks into motion with Frank (Billy Budinich) devastatingly catching his wife in the act of cheating, which understandably sets him on a downward spiral. He goes to drown his sorrows at a strip club, where he meets a dancer named Penelope (Caylee Cowan). Frank spills his sad tale to Penelope, and they decide that they're going to run off together and travel on a beautiful road, like the one at the end of Thelma and Louise (Penelope has never seen that classic, so she has no idea that Frank means driving off a cliff).
Those events kick off Frank and Penelope's ride-or-die journey across east Texas. Their offbeat road trip eventually leads them to a sadistic cult leader named Chisos (Johnathon Schaech). Along the way, there are some cool cameos by Sean Patrick Flanery as the strip club manager, Kevin Dillon as a sheriff, and Donna D'Errico showing range with a larger role as Mabel, one of Chisos' disciples.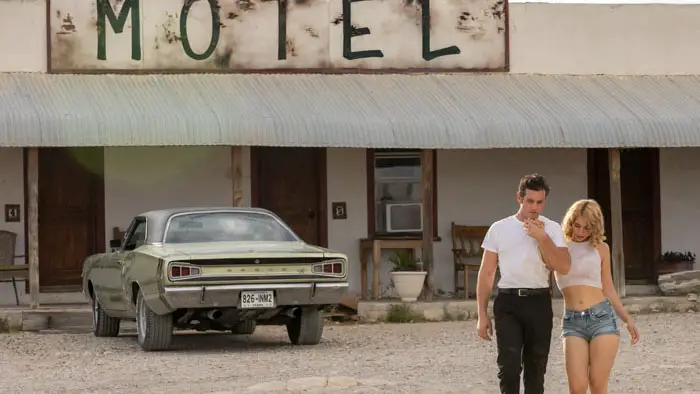 "Their offbeat road trip eventually leads them to a sadistic cult leader named Chisos."
I enjoyed the stylistic choices made throughout Frank & Penelope. The beautiful desert location is a character all its own and serves as a vital and distinctive setting (even though it's been used so often, I still find the desert quite striking), which I really dig in films like this and Breakdown. A.J. Raitano's cinematography captures the harsh beauty of the landscape well.
Budinich has the looks of James Dean, while Cowan is quite reminiscent of Marilyn Monroe as a blonde bombshell with a breathy way of speaking. Schaech is so good as the manipulative leader. He's equally charming and evil all within the same scene. Brian Maillard is also on point as Cleve, the requisite hillbilly type who's a staple in this kind of narrative.
The movie reminded me of the strange kinds of flicks that you used to be able to come across on cable TV. Red Rock West is another title that comes to mind. That 1993 Western-noir features Nicholas Cage going toe to toe with a deranged Dennis Hopper in the desert. Genre flicks like this are slowly going the way of the buffalo, so it's good to see Sean Patrick Flanery bring it back via the indie route.
It might be a strange, fun ride, but that's not to say that Frank & Penelope is without any faults. Some of the acting can be a bit stiff at times. Then the subplot involving a nurse seems unnecessary, even though Sonya Eddy is great in the role. As a result, the film likely won't blow your mind, but it's a solid entry in the genre nonetheless.
For screening information about Frank & Penelope, visit the Red Bud Studios official website.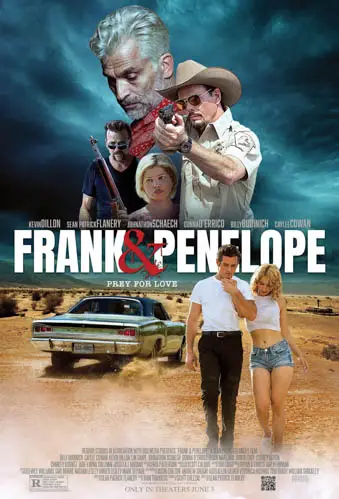 "…a strange, fun ride..."