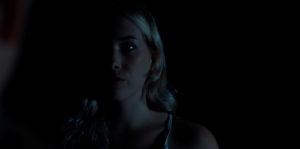 NOW ON VOD! Director Brendan Rudnicki has unleashed a lean, mean, frightening machine with his lethal horror movie Forest of Death. The film, written by Brendan and Kellan Rudnicki, opens on a spiffy vacation cabin in the woods, where something terrible happens to Brad (Kellan Rudnicki) and his girlfriend (Alexandra Ussery). Many weekends later, Tom (Tyler Miller) and Ashley (Chloe Marie Rhoades) have rented that cabin for a weekend of "relaxation," aka booze, sex, and weed. Tom convinces his reluctant buddy Dylan (Dylan DeVane) to join by mentioning Ashley will be bringing a cute friend for him. Ashley convinces Tracy (Stephanie Kirves) to come along by promising her that Tracy doesn't have to hook up with the guy Tom is bringing.
Once at the cabin, everyone stretches their legs with a hike. When it gets dark, they get lost. Dylan sees a figure in the woods and calls out, but it walks away. The quartet is found by Roger (Benjamin L Newmark), whose Uncle Joe (Reggie Johnson) owns the cabin. Joe explains they were looking for whoever killed their livestock and to call if the group runs into trouble. Roger lets them know a shapeshifter wanders these woods that mimics the appearance and voices of familiar faces to lure folks out. As the weekend progresses, Tom, Ashley, Dylan, and Tracy see people standing behind the trees. Then at night, the voices begin.
The first thing that impressed me about Forest of Death was how quickly it starts paying off. The Rudnickis attempt a land speed record by getting to the goods inside the first minute. And it is scary. I've seen the meanest fright flicks ever, and my skin jumped backward here. The editing cuts quickly and deeply, over and over. And once that rhythm is established, the horror gets delivered while building to a terrifying crescendo. The drinking and card-playing montages are fun and bait the audience with the incoming doom.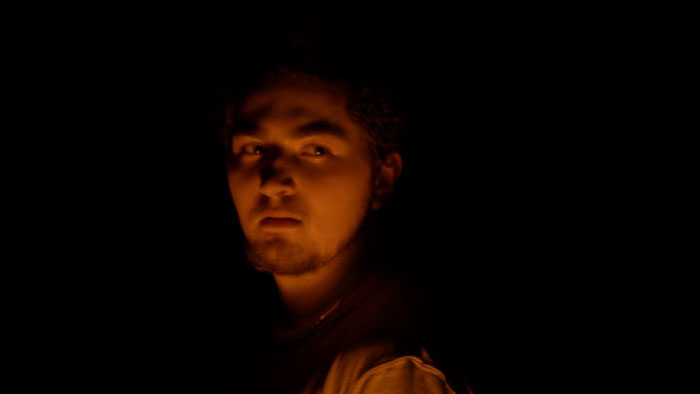 "…Tom, Ashley, Dylan, and Tracy see people standing behind the trees."
The Rudnickis have all the right moves to scare the hell out of you, despite having a budget that cannot be seen with the naked eye. Here the monetary limitations result in very smart choices. This same kind of strategy delivered classics like Carnival of Souls and Night of the Living Dead. The shapeshifter concept nullifies the need for monster costumes and additional actors to play villains. The excellent effects by McKenzie Gilbert and Tatum Bates deliver that old-time gore to establish grisly accents while making the wounds look painful. The music by Paul Mauled, Max H., and Orkas adds production value and helps crank the creep up.
I usually don't comment on the acting in low-budget movies. The reason is, most times, it's friends helping out or regional actors who won't have many film opportunities. The performance level is usually unvarnished but serviceable, with low expectations managing to be met. However, Forest of Death has some much better acting than you see in most horror movies. For starters, the comic relief is funny, which you never get. Newmark's timing is laser-precise, getting bigger laughs than the materials warrant through delivery. Rhoades really has this horror thing down and could go full Scream Queen if she wanted. She looks good with blood on her. Kirves is the secret weapon. You will be surprised by how much she brings to the table. Underestimate her at your peril. Also, most of the actors get to show their range due to the shapeshifter angle.
Brendan and Kellan Rudnicki pack a lot of punch with very modest means, making Forest of Death all the more impressive. The film is like a street-level scrapper who can fight their way to a championship. It may not have cost much, but it will rip your skin off and run away with it.
For more information about Forest of Death, visit the DBS Films website.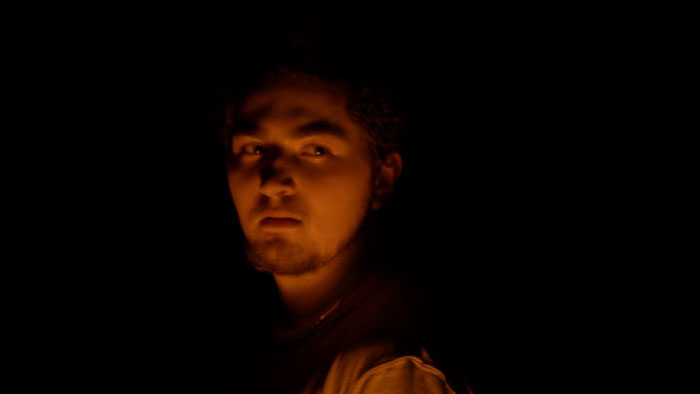 "…a lean, mean, frightening machine..."