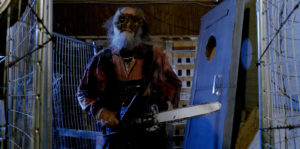 Beloved childhood toys become the misshapen helms of lunatics in Teddy Told Me To, the directorial debut of special effects artist Tom Devlin. It opens with a YouTube livestream of an abandoned haunted house attraction. It closed down years ago due to something awful that happened. While rummaging amongst all the carnival fright rigs inside, something awful happens, and that guy never posts again. Now, cool young couple Zoe (Kamarra Cole) and Danny (Topher Hansson) meet with realtor Jan (Lisa Wilcox) to buy the haunt and re-open it.
Groundskeeper Ron (C.J. Graham) shows them the ropes, which usually have fake skeletons dangling from them. Then, they hold auditions to bring the kind of weirdos out of the woodwork they need for the haunt to get more misfits out of the woodwork. And summon freakazoids aplenty they do, including some who insist on whipping their boobs out. Pitching in to help clean are Val the Vampire Gal (Lola Devlin) and Little Angela (Lily Devlin), a little girl who is really scary.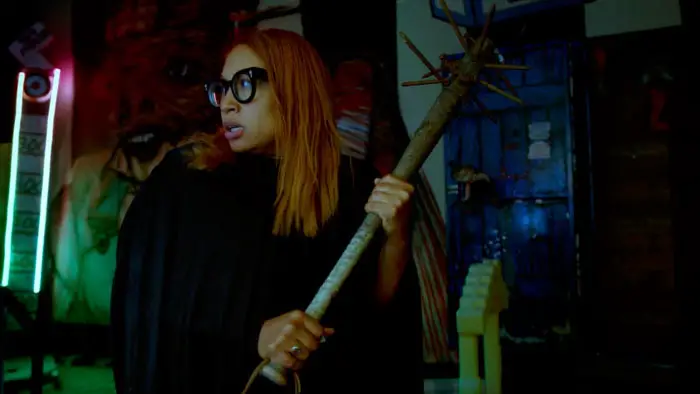 "…this maniac with a teddy bear face did more awful things at the haunt, causing it to close."
Soon enough, it looks like the haunt will be a big hit, and folks are lining up for hours. However, this tale is about a little boy whose abusive dad ripped up his beloved teddy bear. So the little boy put the ripped-up parts of the bear on his face and did awful things. Years later, this maniac with a teddy bear face did more awful things at the haunt, causing it to close. Zoe and Danny thought the local legend would help bring traffic in, so they created a part of the haunt dedicated to Teddy. Will awful things ensue in a widespread slaughter inside a haunted house? Yes, cause what Teddy says goes just like the title says.
What drew me to Teddy Told Me To was the poster, which is styled after an old Creepy magazine cover. It pushed a lot of nostalgic buttons, which Devlin pressed further by casting a bunch of special guest stars. Wilcox was a lead in Nightmare on Elm Street 4 & 5, and Graham was in Friday the 13th VI. We also have Felissa Rose from Sleepaway Camp in the killer's backstory, plus Warrington Gillette from Friday the 13th II getting murdered. Former adult performer Tabitha Stevens has her face cut up in one horrifying, meta scene. It also has a great shooting location, Tom Devlin's Monster Museum, in Boulder City, Nevada. It looks like a really creative haunt with some decent pants-wetting practical effects.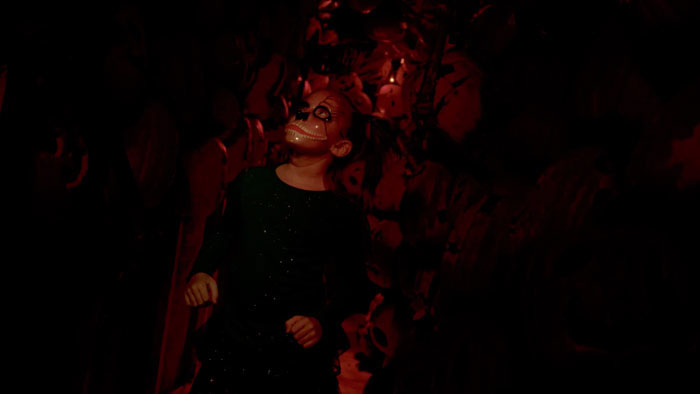 "…others may argue about purposeful camp."