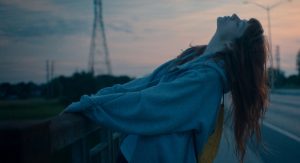 "We're getting out," the red-haired female protagonist of Jasmin Mozaffari's incredibly assured feature debut Firecrackers tells her best friend, over and over again. This futile promise of escape, of a better life, forms the running thread of the film, based on Mozaffari's own 2013 short. By turns lyrical and uncompromisingly bleak, it brings to mind Sean Baker's The Florida Project, or Larry Clark's earlier efforts, in its raw depiction of lower-class adolescence. 
While Baker witnessed the horrors of surviving in America's slums through the eyes of a prepubescent girl, and Clark adopted a controversially salacious and hopeless approach, Mozaffari confidently plunges into the depths of an unnamed, downtrodden Ontario neighborhood; her film, like her heroine, starts off rebellious and energetic and gradually grows more somber/thoughtful. Basked in grey hues through which only glimmers of redemption shine, Firecrackers will leave behind lingering embers.
Lou (Michaela Kurimsky) redefines the term "fiery redhead." She doesn't hold back; the film starts with Lou beating the crap out of a girl, after claiming that she can "smell her dirty c**t from here." She and her promiscuous friend Chantal (Karena Evans) hang out with the latter's freestyling "sort-of boyfriend" Josh (Scott Cleland) in the back of his brand-new truck. They crush and snort pills in Lou's ramshackle trailer. They play with stranded hoses in dank alleys, ride shopping carts in grimy parking lots – and plan on escaping to New York, as soon as possible, with the money they've saved up mopping up people's filth. 
"…play with stranded hoses in dank alleys, ride shopping carts in grimy parking lots – and plan on escaping to New York…"
Problem is, Chantal's abusive ex, Kyle (Dylan Mask), keeps winning her back with his dominant, alpha-male demeanor. When Kyle shatters Josh's ego (in a brilliantly-executed, tense sequence), the girls' means of escape – Josh's truck – disappears, along with Josh. Other obstacles arise: Kyle and his group of douchebags do something to Chantal that she "can't remember," but leaves her disheveled in the shower, sobbing hysterically to "get the sand out of [her]." In response, Lou fucks up Kyle's car, which leads to the girls parting with their saved-up stash to fix the damages. By the time Chantal finds a way out, of sorts, with a bunch of older hoodlums, Lou may have reevaluated her priorities. 
"What, you're trying to turn him into a faggot now?" Lou's bigoted/sheltered mother Leanne (Tamara LeClair) barks at her daughter, after discovering her applying make-up to her little brother Jesse (Callum Thompson). Mozaffari depicts a tense, threatening, suffocating microcosm where homosexuality gets suppressed with baptism, relationships are built on trivial power plays, and toxic masculinity reigns supreme, all limp dicks and limper posing. 
Those stranded female teenagers grasp for a semblance of coherent values in a sweltering, chaotic eco-system, echoing our collective urge to find ourselves in an increasingly turbulent, male-driven world. The filmmaker proves as adept handling tender, quiet moments (Lou voguing with her little brother, or having sex with another kindred, lost soul), as expertly crafting harrowing sequences (e.g., a game involving a barrel of a cocked rifle inserted in your mouth).
"Kurimsky is a livewire, delivering an unpredictable performance, unhinged in the best sense…"
The acting is stellar all around – but it's the lead that steals the show. Kurimsky is a livewire, delivering an unpredictable performance, unhinged in the best sense, her anarchic spirit both appalling and endearingly contagious. She masks her insecurities with a veneer or fury that slowly melts away. "You're pretty f*****g angry," a young man tells Lou, "that's not you, I can tell." The actress anchors every scene she's in. Get used to her name; I have a feeling you'll be seeing it a lot in the near future.  
Foul-mouthed, unapologetic, visceral, and authentic, Firecrackers also happens to be sharply edited, its narrative complemented by Casey MQ's gorgeous electronic ambient/drone score. Sure, it may be too relentlessly dismal for some, and there are meandering spots where its origins as a short are evident, yet this is a robust effort from a highly assured talent. Welcome to the big leagues, Mozaffari.
Firecrackers (2019) Written and Directed by Jasmin Mozaffari. Starring Michaela Kurimsky, Karena Evans, Callum Thompson, David Kingston, Tamara LeClair, Scott Cleland, Dylan Mask. 
8 out of 10