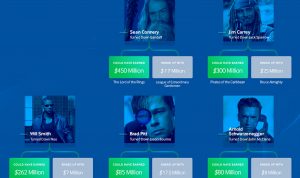 Sometimes the choices made by actors can come down to the same basic principle as picking red or black on one of our tables. Turning down one role for another may be the difference between receiving critical acclaim and a huge payday or landing yourself a part that's a career low point.
While the majority of those on the list have continued to see success – they are Hollywood celebrities after all – it's hard to imagine that the following choices haven't caused them to kick themselves. Betway Casino found some of the biggest financial missteps made by well-known actors:
Now that you know the huge amounts of money we're discussing, let's take a look at the reasons behind them turning down the opportunity to star in what turned out to be highly successful movies.
Sean Connery Didn't Understand Lord of the Rings
Looking back on the Lord of the Rings trilogy, it's hard to imagine anyone else but Ian McKellen donning the hat and robes of Gandalf. However, early in production, the role was offered to the original James Bond, Sean Connery. Unfortunately for him, he couldn't get his head around the script and passed up one of the most beloved franchises in film history.
This led to him taking a role in The League of Extraordinary Gentlemen, which was pegged to be the start of its own franchise. We all know how that went – while it made a decent amount of money worldwide, it was critically panned and is widely credited as the reason Connery decided to quit acting altogether.
Jim Carry Passed on Pirates
When people think of Disney's Pirates of the Caribbean series the first thing that comes to mind is, inevitably, Johnny Depp's rum-swilling, Keith Richards impersonation Captain Jack Sparrow. However, we might have seen an even more outrageous portrayal if the first choice had said "Alrighty-then".
Jim Carrey turned down the opportunity to step aboard the sea-faring franchise to focus on his upcoming project, Bruce Almighty. While it is considered one of his better mid-career comedies, his time playing at being God cost him the opportunity to rake in hundreds of millions from the House of Mouse.
Will Smith Took the Blue Pill
When presented with the option to appear in a ground-breaking trilogy of movies that pushed the boundaries of storytelling, special effects and action sequences on-screen or a light-hearted steampunk western, most people would jump at the chance to be in the former. Not Will Smith though. Despite being the favorite to lead the cast of The Matrix, Smith took a gamble and said no, riding into a sunset of shame with Wild Wild West.
He has since claimed that Keanu Reeves did a better job with the role of Neo than he could have at the time. That being the case, it's still hard to imagine that he doesn't regret turning down the opportunity to kick a*s and take names in a leather trench coat – especially when he made less than a quarter of the money for his choice to portray a cringeworthy cowboy.
Brad Pitt Backed the Wrong Spy
In a classic case of backing the wrong horse (or spy in this case) Brad Pitt turned down the opportunity to become Jason Bourne for the chance to star opposite Robert Redford in 2001's Spy Game. While the latter was well received, it's barely even on the radar when compared to the value of the Bourne franchise.
The physicality and intensity that Pitt brings to roles made him a no-brainer to play the ex-CIA assassin. However, despite early misgivings from action fans, Matt Damon stepped up to deliver the visceral action that the series is now famous for. While Pitt isn't exactly struggling for work – the payout from the Bourne series would certainly have made him a lot more comfortable.
Arnold Schwarzenegger Missed Out on McClane
When Die Hard was originally being shopped around, Arnold Schwarzenegger was the favourite to be cast. However, with the script not completed when he was approached, Arnie wasn't willing to take a risk. By the time everything was ironed out, Bruce Willis had stepped up to fill the iconic white vest. One thing's for sure, it would have been a different movie entirely with the Austrian Oak taking on the role of John McClane. Nakatomi Plaza would need much bigger air vents for a start.
The same year Die Hard was released, Schwarzenegger starred in an altogether different brand of action film alongside James Belushi. Despite being relatively well received, it never made as lasting an impact as the McClane character would achieve. It also made Arnie around 10x less money than if he'd agreed to trust in the potential of what is now considered the greatest action movie of all time.
Emily Blunt Wasn't Wowed by Marvel
Emily Blunt's decision not to appear in Marvel's Cinematic Universe as one of the central characters must keep her up at night. The role of Natasha 'Black Widow' Romanoff has led to Scarlett Johansson frequently appearing on top-paid actor lists and, despite being a large multi-movie commitment, must come with a great feeling of job security.
The fact that Blunt's decision was due to scheduling conflicts with Jack Black's updated version of Gulliver's Travels makes the whole thing even more tragic. While her voyage to Lilliput performed reasonably well at the box office, it was critically savaged and isn't a drop in the ocean compared to the payday Johansson continues to enjoy.
Emily Browning Chose Studies Over Sparkly Vampires
Twilight author Stephanie Meyer had Browning in mind when the casting for the movie trilogy began. However, the young Australian actor had just finished a project and wasn't ready to jump into a franchise which she thought would jeopardize her studies. This left the door open for Kristen Stewart to swoop into her big break alongside a sparkly Robert Pattinson.
The next role that Browning took on was the 2009 movie The Uninvited, a remake of a Korean horror movie that didn't receive the best reception. It also didn't bring in a fraction of the amount as the Twilight saga. While she has been working regularly ever since, it's a given that Twilight will always be a what-if scenario for her.
Bill Murray Didn't See Himself as Santa
Although Tim Allen is now synonymous with the role of cynical dad turned Santa, Scott Calvin – the role was originally written for everyone's favorite curmudgeon, Bill Murray. After clashing with the filmmakers when shooting another Christmas classic, Scrooged, Murray was in no rush to take on another holiday-themed project – plus, he didn't rate the humour.
After a brief appearance in Tim Burton's Ed Wood the same year as The Santa Clause was released, Murray's next large role was in Wes Anderson's critically acclaimed sophomore movie, Rushmore. Anderson has gone on record to say Murray's salary for the movie was 'around $9,000' showing that while the beloved actor has a knack for choosing quirky movies that interest him – he's not as financially savvy as he is extremely picky.
Christina Applegate Made an Error of Judgement
Legally Blonde may have been a career-maker for Reese Witherspoon, but it also represents a terrible misstep for the original casting choice, Christina Applegate. Afraid of being typecast as a 'ditsy blonde' stereotype, she turned the movie down in favor of time-traveling comedy Just Visiting.
The fact that you're unlikely to have heard of the latter movie (which ended up being a financial disaster to the tune of $19m in losses) should give you an idea of the magnitude of the error. Applegate herself has claimed that it was a "stupid decision" and looking at the amount of money she passed by, we have to agree.
Javier Bardem Snubs Blockbuster for Arthouse
Not many people would say no to Steven Spielberg, but Javier Bardem did just that when he was offered a large role in the 2002 sci-fi epic, Minority Report. He chalks this up to being uncomfortable with an English-speaking role which he claims was a linguistic challenge for him at the time. This explanation would make more sense if the film he chose instead, John Malkovich helmed The Dancer Upstairs, was in his native Spanish; but it wasn't. Maybe it's more a case of being picky with parts than wary with words.
This led to Colin Farrell being snapped up and fast-tracked to Hollywood stardom while Bardem (despite having been nominated for a Best Actor Oscar by this point) spent the next few years in smaller features before his stunning performance in No Country For Old Men made him a household name.
While it could be argued that Bardem took the more principled route – opting to choose a role he was more comfortable with – the cold hard truth is that the movie he went for instead didn't make much more at the worldwide box office than Farrell was paid to chase Tom Cruise around for a couple of hours.