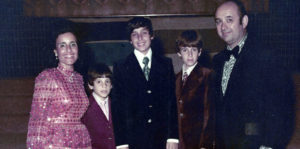 There may be a time when we wonder where we came from and who created, raised, shaped, and loved us. Sometimes, the answers are simple, but often, they're complicated, as family itself is complicated. Who we associate with throughout our lives sometimes changes, and change, while occasionally difficult to navigate, isn't always bad. In Filling in the Blanks, writer-director Jon Baime's life changes after he takes an at-home DNA test and unearths a family secret, propelling him on an expedition to trace his lineage.
Baime begins the documentary with a punchy statement: "I always suspected my parents harbored some kind of long-held secret," he says while showing home videos of his younger self with his parents. Baime, now 54 years old, enters the frame, sits down in a chair, wipes his forehead, and mentions a secret that his parents kept from him. The clapper loader comes in, not to designate the start of another take but the beginning of a long, emotionally taxing, and sometimes enriching genealogy journey. Still, the filmmaker knows better than to divulge that familial secret in the opening minutes, although one could easily surmise.
As the youngest, Baime describes how he was the curious one. He grew up in New Jersey with his parents and two older brothers, Eric and David. His mom served on the local board of education. His dad, Richard, was an accountant. They lived a typical suburban life, yet the director somehow sensed something was off as his parents were unusually secretive. On the night of his father's 92nd birthday dinner, the topic of DNA testing came up, and Baime talked about wanting to take a test. He remembers the date, the event, and the keywords exchanged. Specifically, Richard sternly told the documentarian not to do this. This moment is recreated and takes audiences to a fine dining establishment closely resembling the original setting.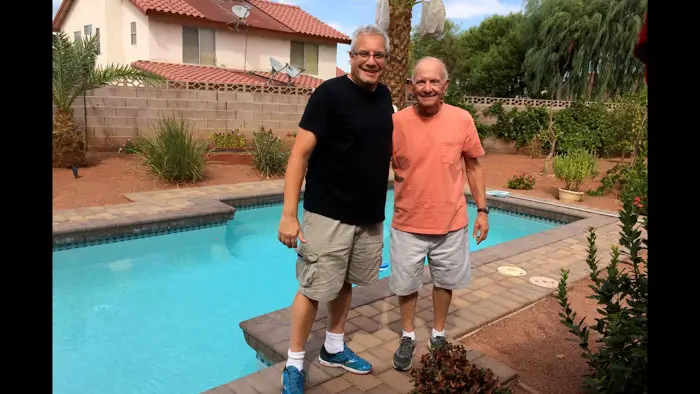 "…the man who raised him is not his biological father."
Baime turns to 23andMe for answers, and that's when he realizes that the man who raised him is not his biological father. His parents went the donor route, and his biological father is Harrison Sheld. Moreover, the test reveals that he has several half-siblings. From here, Filling in the Blanks takes to the road to learn more about them. He goes to Delray Beach, Florida, to meet with his half-brother, Mark Slaton. He goes to St. Simon's Island, Georgia, to meet his half-sister Laura Lehrhaupt, who talks about her father's aggression. This is right about when Baime ponders if it is at all possible that a parent's aggression and austerity are linked to their infertility, sparking intense discourse that warrants further scrutiny.
The scenes where Baime bonds with his half-siblings and his biological father are genuinely tender and heartfelt. There isn't any judgment as he gives each person the space to speak their minds. They all had their lives upended by the same realization, but their reactions vary, with Baime feeling deceived. But sustaining a casual tone as both subject and narrator, he doesn't come off as bitter. If anything, he uses humor as a coping mechanism, as many of us do under certain circumstances. The film loses momentum halfway through as it takes a few too many detours through history. But it picks up again during the final third as the focus is turned back onto the familial relationships.
Filling in the Blanks is a hugely personal and affecting documentary about the nature of family. The filmmaker times and mixes every interview, home video, and archival clip in a way that serves to complement Baime's humor and intensity, such as lingering on dramatic pauses. This is an introspective glimpse at the intricacy of family, the motivations behind the donor process, the impact of genetic bonds, and the search for truth and forgiveness when secrecy prevented many from filling in the blanks for so long.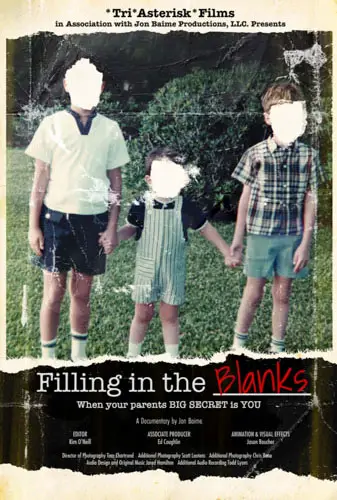 "…hugely personal and affecting..."