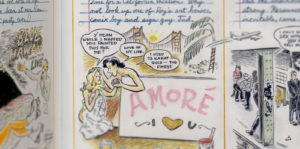 They say never meet your heroes. They might turn out to be jerks. In John Kinhart's documentary, Married to Comics, Kinhart puts it out there in the universe that he wants to cover the life of his favorite artist, Justin Green…let's just say he gets more than he bargained for.
For the uninitiated, Justin Green is the creator of the underground comix, Binky Brown. He's considered the father of the autobiographical comic (a title he refuses to accept), and his magnum opus, Binky Brown Meets The Holy Virgin Mary, is considered the best of the best as a confessional of an ex-Catholic struggling with OCD.
Married to Comics opens with Kinhart's journey to meet his hero. After an exchange of emails, for the most part, Kinhart is ghosted by Justin. While attending a comic con, Kinhart approaches Justin's wife, Carol Tyler—another accomplished Comix artist in her own right. Carol tells Kinhart that if he wants to get to Justin, he'll have to go through her. Justin ultimately relents.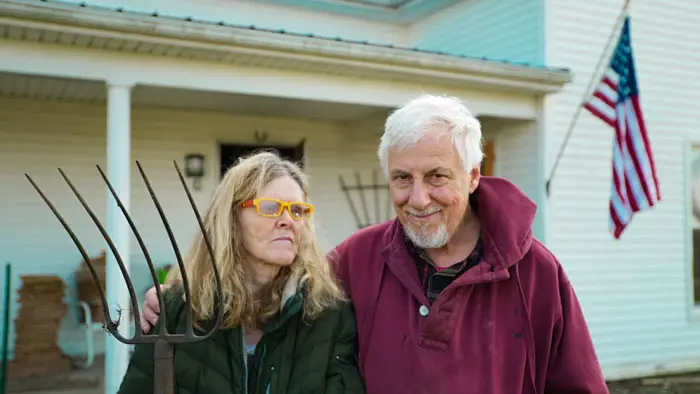 "…he created Binky Brown, an autobiographical tale of being Catholic and suffering from OCD."
We soon meet Justin at his home in Cincinnati. He and Carol live almost completely separate lives. Justin has staked out the first floor while Carol works on her next graphic novel upstairs. From here, the story behind Married to Comics becomes an exploration of "how did we get here?"
There's so much to unpack in this two-hour documentary that I can only give you the highlights. Real quick, Justin Green was born in Boston, grew up in Chicago, and became an underground comix artist after discovering Robert Crumb in the late 60s. He ultimately moved to San Francisco, where he created Binky Brown, an autobiographical tale of being Catholic and suffering from OCD. It's here we discover the brilliance of Green's work and how debilitating his OCD has become.
While exhibiting his work, Justin meets Carol, who becomes enamored with Justin's art. As an aspiring artist herself, Carol fed off Justin's energy into her own work, but let's just say Justin never inspired her work. In fact, any advice he gave she quickly shut down, and if she did ask for advice, she'd ultimately toss it aside.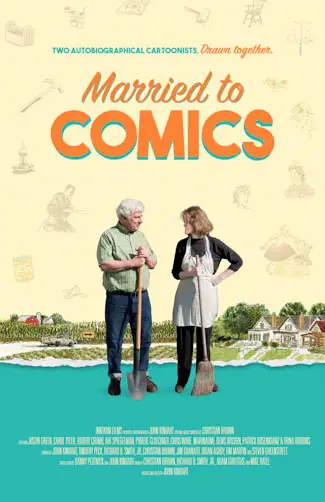 "…their union can be described as long-suffering (mostly for Carol)..."