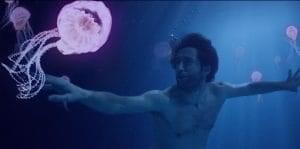 Jason James' Entanglement is a quick lap around the crazy starring Thomas Middleditch as lovelorn Ben Layton, disappointed and frustrated with his life. If this was an 80's movie, John Cusack would be Ben: it's Better Off Dead with Canadian millennials.
Ben is a mid 30's man-boy. He's a walking product of too many saccharine inspirational internet memes, vacillating between trite aphorisms like "everything happens for a reason" and killing himself. Ben is recently divorced, leads a miserable, jobless life. His existential pain is nearly visible in the air around him. We meet him during a comically failed suicide attempted to some awesome old jazzy pop music, vinyl on a vintage turntable. He's tragically hip. He even says suicide "happens for a reason."
"If this was an 80's movie, John Cusack would be Ben…"
He's looked after by his sarcastic, reluctantly helpful neighbor Tabby Song (Diana Bang), the attention he overlooks in his quest for ultimate fulfillment or death.
After the suicide attempt, he randomly meets a woman in the pharmacy he later discovers was almost his adoptive sister. This information is galvanizing, leading him to decide (Intuit, insanely jump to the conclusion) that having a sister would have changed everything and knowing her is the key to understanding why his life is a dumpster fire, and further that having her around is the only chance he has for happiness. His prophecy self-fulfills and he falls in love with her which leads to a much more complicated existence.
Ben's devastatingly cute "sister" Hanna (Jess Weixler) is an updated version of the manic pixie dream girl. She is pretty freaking adorable… and recklessly capricious. You'd hang out with her. She'd make a great sister, but an even better girlfriend.  She appears as the magic ingredient missing from his life, honest without being mean, intensely sexual without being unwholesome. Weixler nails it and watching her is the primary reason to spend time on this film. 
"…a light diversion that aspires to the glory of it's quirky rom-com ancestors…"
The conceit of the film is that an effect like quantum entanglement somehow also applies to relationships… a variation on the concept of soulmates. It's a nice thought, even if James had to bang on it a bit to get it to fit into this movie. Annoyingly for those actually paying attention to the plot, the idea evaporates in the third act twists and turns. 
This movie is a light diversion that aspires to the glory of its quirky rom-com ancestors like Say Anything or Better Off Dead or even Say It Isn't So but misses the mark by taking itself too seriously. It's also tonally off in the approach to mental illness and suicide played for laughs (which can be done well, but that fine line is crossed here).
Entanglement (2018) Directed by Jason James. Written by Jason Filiatrault. Starring Thomas Middleditch, Johannah Newmarch, Diana Bang.
6 out of 10