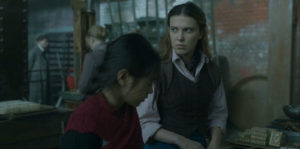 NOW ON NETFLIX! The first Enola Holmes was an exciting and clever film. Thanks to a high-profile cast and a family-friendly tone, it proved to be a big success for Netflix. As such, a sequel, Enola Holmes 2, was put into development. With the main cast reprising their roles, as well as director Harry Bradbeer and screenwriter Jack Thorne returning, it has some mighty big shoes to fill. Is this a case of diminishing returns, or is there more fun afoot?
Enola Holmes (Millie Bobby Brown), due to the success of her first case, decides to open her own detective agency. Unfortunately, with it being 1885 England, the enterprising young woman finds her age and gender prevents most people from hiring her. However, the operative word there is most, as a little girl named Bessie (Serrana Su-Ling Bliss) waltzes in just before Enola's office closes for good. Bessie hires the sleuth to find her sister, Sarah (Hannah Dodd).
Bessie and Sarah, who are a found family unit, work at a match factory whose profits are soaring. Enola disguises herself as a new worker but must tread carefully, as there's a typhus outbreak. Through distraction and cunning, Enola discovers missing pages in a ledger. This sends her down a path of blackmail, money transfers, and corruption, tying her missing person with a case Sherlock (Henry Cavill) is investigating. Things get extra complicated when Lord Tewkesbury (Louis Partridge), who Enola's been enamored with since they met a year ago, becomes embroiled in her case.
"…Bessie hires the sleuth to find her sister…"
Enola Holmes sports an engaging mystery but relies heavily on action scenes to move forward. Enola Homes 2 features several exciting action beats, all expertly staged. A jailbreak and the ensuing coach chase are exceptionally terrific. But the mystery here is more complicated, containing layers that add more depth and danger to the proceedings. Without giving anything away, there's a strong social commentary at play that gives real-world relevance to the plot. This means the movie will hold the attention of the young and old alike.
Millie Bobby Brown proves why she's such a star at a young age. She brings a playfulness to the role that makes her quite endearing. The best scene in the film is when Enola needs Tewkesbury to teach her to dance in five minutes. Brown and Partridge's longing is palpable, while the titular character's desperate search for the truth is always at the forefront. It's a delicate balancing act the lead performer pulls off with the greatest of ease. For his part, Partridge is still as sweet and slightly goofy as ever. The two haven't lost a single ounce of chemistry, further deepening their characters' connection.
Cavill is still an outstanding Holmes. When he's telling Enola about how being emotionally distant takes its toll (though it does work wonders for breaking cases), the actor's resignation over a lonely life is felt on all levels. As Lestrade, Adeel Akhtar showcases his perfect comedic timing. David Thewlis plays Police Superintendent Grail and is at his smarmy best. The man has always elevated everything he's been in and does so here once again.
Thanks to the incredible editing and score, the story never loses momentum. In fact, due to real-world parallels (as a part of the plot is based on true events), Enola Holmes 2 offers more intrigue and danger than the original. In addition, the way it expands upon the first to flesh out the characters and their world is fantastic. Bradbeer and company have crafted a superior sequel to an excellent initial romp.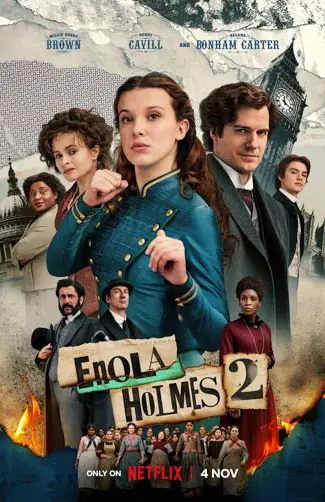 "…a superior sequel to an excellent initial romp."