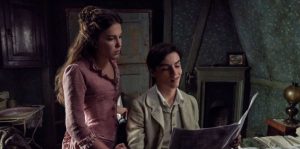 Nancy Springer created the character of Enola Holmes as the lead in her series of young adult mystery books. The first one was published in 2006, with the sixth and final book coming out in 2010. Of course, if a franchise hasn't been turned into a movie yet, an executive somewhere will rectify that. Enter Netflix, and their adaption of The Enola Holmes Mysteries, well, the first book anyhow (unsure if more than one book was combined for this movie), simply titled Enola Holmes.
Enola Holmes (Millie Bobby Brown) is the decades younger sister of the famed detective Sherlock (Henry Cavill) and the older, curmudgeonly Mycroft (Sam Claflin). Their mother, Eudoria (Helena Bonham Carter), homeschooled Enola, foregoing even a governess. She had her daughter read every book in the library, trained her in self-defense, and sharpened her mind with games such as chess. Enola proved just as keen and aware of her surrounding as her famous brother.
But one day, a 16-year-old Enola wakes up to discover that her mother has disappeared. Upon hearing this news, Sherlock and Mycroft return to their family estate, where Enola is shocked and appalled to find out that she is to be sent to a finishing school. See, as the eldest, Enola becomes Mycroft's ward, and he is anything but progressive. So, Enola flees, heading to London, following clues her mother left behind.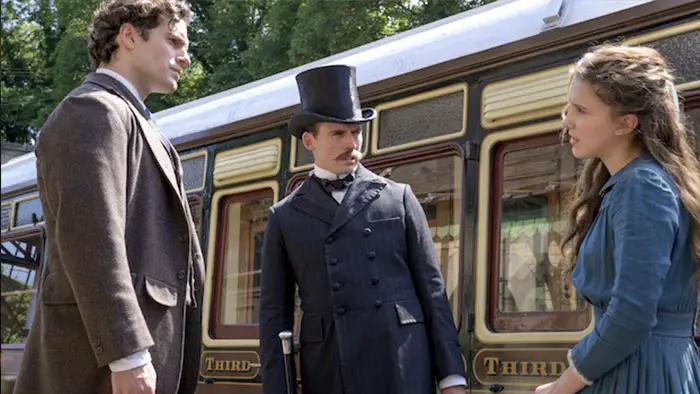 "Enola has to keep [Tewkesbury] out of danger and discover why someone wants him dead…"
On the train, she meets the young lord Tewkesbury (Louis Partridge), who is also running away from his family. However, his family is desperately looking for him…and someone is out to kill him. Now, Enola has to keep him out of danger and discover why someone wants him dead, avoid Sherlock, who is tracking her down, and find her mother.
Director Harry Bradbeer has decades worth of shows and made-for-TV movies to his name before helming Enola Holmes. As such, it should not come as too much of a surprise to learn that Bradbeer directs a kinetic, fast-paced movie that is one of the best-looking movies Netflix has produced. In several Holmes adaptations, clues flash before the audience as the detective pieces the mystery together. Bradbeer does so here as well, but the energy brought on by the fast-moving cutaways is ever-present.
The action beats hit a similar energetic rhythm, and it is grand. A train chase sequence is incredibly fun, as is Enola's first showdown with the would-be assassin. Of equal excellence is the cinematography by Giles Nuttgens. The period sets are lovingly captured, as the vibrant colors pop off the screen. The costumes are also fantastic, as Enola disguises herself several times, and each one is detailed and gorgeous.
As far as the mystery goes, there are enough red herrings to keep it intriguing, though the ultimate mastermind will not be a huge surprise to observant viewers. That is not a bad thing, mind you, as making it overly complicated would lose the younger audience members. Jack Thorne's script peppers in enough subplots that even if movie-goers figure out who wants to kill Tewkesbury early on, there's still plenty to invest in and keep them hooked.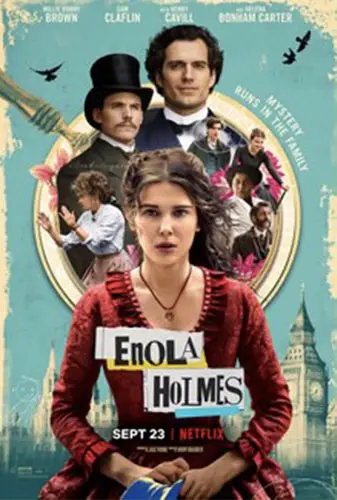 "…it is elementary that audiences will fall in love with Enola Holmes..."