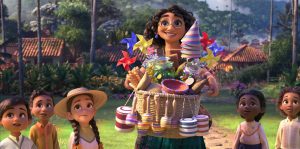 Let's talk about the only two thing elements that really count: music and story. Musically, I had to grow into Lin-Manuel Miranda's songs. Overall, it's great, just falling short of Menken and Ashman. On the plus side, Encanto is the closest thing you'll get to an animated Broadway musical. The opening number, The Family Madrigal, sets the tone and establishes the family of super-powered people and the normal Mirabel. It's bright with a fast-paced Latin beat. My only issue is it features Miranda's trademark hip-hop wordsmithing, which flies by at a blinding pace. It's hard (almost impossible) to keep up with the lyrics.
Thankfully the pace starts to slow down, and Miranda starts to present more traditional Disney songs from a story structure standpoint with a mix of comedy numbers (We Don't Talk About Bruno) and heart-wrenching ballads (Dos Oruguitas), and an ending "What We Learned" showstopper (All of You). I judge the greatness of musicals solely on one criterion—am I singing the song after the movie is over. Do I have the basic melody and lyric down? With Encanto, not so much. On the positive side, the second level of greatness is my willingness to buy the soundtrack and fall in love with it after the fact, and yes, Encanto's songs are catchy enough to come back to.
Now onto story. What I love about Encanto is it's very much a Disney tale. Its Latin/Colombian influences sets it apart from almost all of the other Disney classics. The colors and visuals in Encanto are spectacular. I think this is the first Disney film set in a lush, tropical location. The entire village is surrounded by nature…dense nature of greeny greens. The percussive Latin soundtrack gives the story a refreshing new style from your traditional orchestrated background of every other Disney film.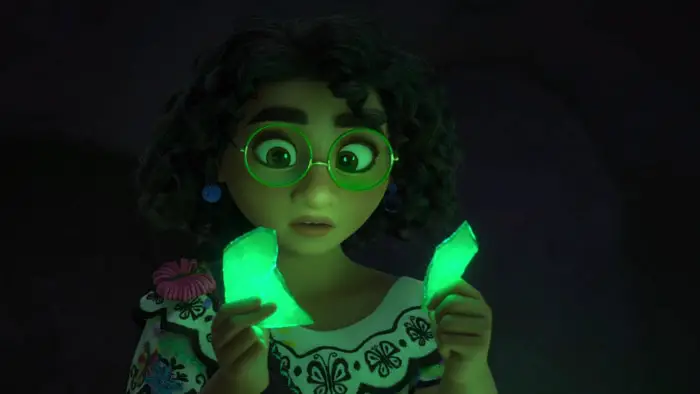 "Its Latin/Colombian influences sets it apart from almost all of the other Disney classics."
Storywise, what child will not fall in love with a family of superheroes. Everyone has powers that come into play for comedic and narrative reasons to save the day. There's a massive red herring that should solve the problem, but deep down, we know it won't. This was only a problem in that the fake solution was not good enough to end the movie. Then onto the heart-breaking ending about family. I almost teared up…almost, but I didn't!
Now to some side notes. I mentioned Encanto is a close as Disney's come to a Broadway play since Beauty and the Beast. Many of the numbers are staged with spotlights and background dancers. The presentation is cool and refreshing. There's a little Hamilton vibe, but there's no denying this is the work of Lin-Manuel Miranda.
Lastly, my if-it-were-up-to-me moment is with the ending. Those who have seen it will know what I'm talking about, but the film could have ended five minutes sooner and given us a much stronger and more human ending. I suppose the potential for a television series on Disney+ necessitated the ending. Still, I think ending it sooner would have turned Disney storytelling on its head for all the right reasons.
In the end, Disney still knows how to produce classic animated tales, and with Encanto, there's no stopping them. So can we talk about their live-action features now?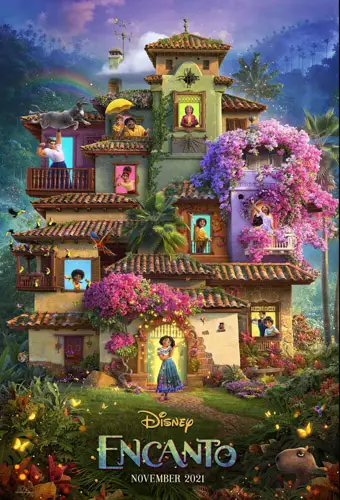 "…the closest thing you'll get to an animated Broadway musical."