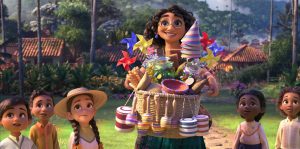 A little backstory is warranted to dive into the enchanted world of Jared Bush and Byron Howard's Encanto, which features music and lyrics by Lin-Manuel Miranda. The Madrigal family lives in an enchanted village in Colombia. Long ago, the family matriarch, Abuela (Maria Cecilia Botero), escaped a village raid with her three children and witnessed the murder of her husband. The traumatic event placed upon a candle she was carrying an enchantment that created a magical village and protected her and the surviving villagers.
Now for the Disney magic. Because Abuela is the central figure surrounding the enchantment, all of her offspring (and grandchildren) are bestowed magical powers while partaking in a "door" celebration — like when mutants become teenagers. Of course, everyone has powers. Well, all that is except for Abuela's granddaughter Mirabel (Stephanie Beatriz). During Mirabel's ceremony, she was given no powers and skipped over to this year's recipient, Antonio. So Mirabel is the only normal person in a family of extraordinary superpowered people.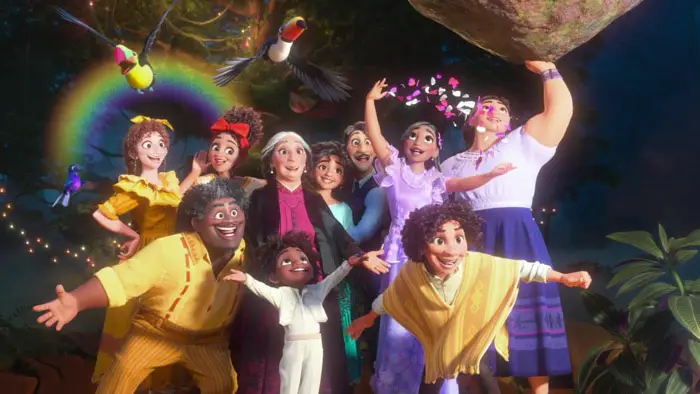 "…Mirabel is the only normal person in a family of extraordinary superpowered people."
Mirabel tries to overcompensate for being normal, while her family members try real hard to make her feel like she's one of them. Well, all that is save for Abuela, who clearly sees Mirabel as a disappointment and the black sheep of the family.
The story of Encanto covers a lot of ground. Did I mention everyone lives in a bewitched house, known as Casita, that has a personality of its own? Casita is going to pose a merchandising nightmare. Oh yeah, story…after Mirabel's failed ceremony, her Uncle Bruno (John Leguizamo) — whose power is seeing visions of the future — prophesies the village's destruction, with the cause of the destruction being Mirabel. Not wanting to face the family with his visions, he ran away. Like all good prophecies, it comes true, and Mirabel, against Abuela's wishes, must find Uncle Bruno and a way to reverse the curse.
If you've seen every single Disney animated feature, as I have, Encanto sits right there in the upper third. The story and music shine. Maybe it is not an instant classic like The Little Mermaid and Beauty and the Beast, but it definitely will enrapture a new generation of Disney fans.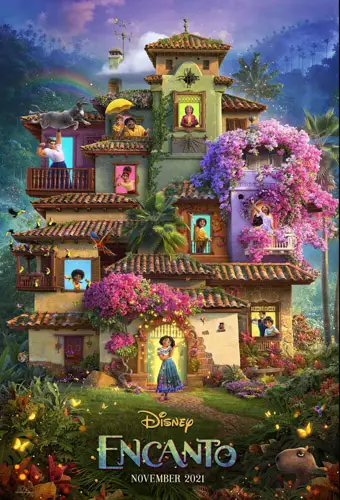 "…the closest thing you'll get to an animated Broadway musical."