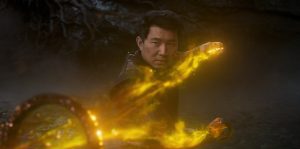 Honestly, I get slightly annoyed at big cultural events. There's only one reason why Marvel Studios made Shang-Chi and the Legend of the Ten Rings, and it's not because he's a beloved Marvel superhero, like T'challa. As a young Marvel Comics fan, I owned two issues of Shang-Chi, and I bought them from the dime box at my comic book store. Even then, I didn't know the origin, nor really who the character was. A broad audience's lack of general knowledge allows Marvel Studios to tell whatever story they want without fan backlash. That said, boy, did I love this movie.
Shang-Chi (Simu Liu) and his sister Xialing (Meng'er Zhang) are the children of two very unusual parents. Way back when, their father, Xu Wenwu (Tony Leung), was a fierce warrior who was granted great power and immortality from the mystical Ten Rings. However, everything changed when he went to find their origins and was transported to another dimension and a small village known as Ta-lo. There he meets, fights, and falls in love with Li (Fala Chen). Finally, Wenwu has found the one worth growing old for and retires the rings to raise a family.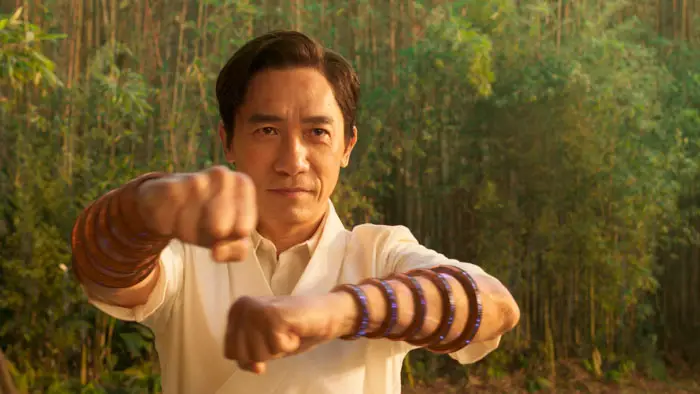 "…Shang's father wants him to return to the fold for a vital mission…"
Now in the present, Wenwu has become a ruthless businessman and leader of the Ten Rings crime organization and has raised Shang-Chi to become an assassin. Shang-Chi fails to go through with his first assignment and hides from his father in San Francisco. Shang is now Sean and works as a car valet with his best friend, Katy (Awkwafina). Shang's father wants him to return to the fold for a vital mission involving Xialing. Of course, Katy is along for the ride along with Trevor (Ben Kingsley) from Iron Man 3.
First, let me spare you all the Asian representation talk about Shang-Chi and all the "first" this and that. I cover it all on the Film Threat YouTube channel. As a Chinese-American growing up in Los Angeles, Shang-Chi and the Legend of the Ten Rings get a lot of our culture right. When our heroes travel to the mystical Ta-lo, the lions and dragons I saw as stone statues in Chinatown come to life, and it feels right in my mind.
The world is what I love about Shang-Chi and the Legend of the Ten Rings. First, the fighting. I'm constantly reminded of the imported martial arts films of my youth. Then, as I grew older, I was introduced to wire-fu style and the flying style of Crouching Tiger, Hidden Dragon and Hero. Now add the CG effects that only Marvel Studios can provide, and the fights scenes are gorgeous, particularly the fight/love scene between Wenwu and Li.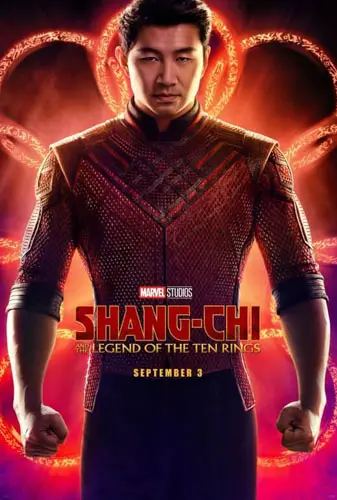 "…the Ten Rings are the best weapons in the MCU. Yes, better than Stormbreaker."