If you are looking for an in-depth comparison between Emma, the book, versus Emma, the movie, I fear you have come to the wrong place. I never read the book or all that much Jane Austen. I'm more of a Bronte sisters kinda gal, although I have made plans to read all of Jane Austen's books at one time or another. If it makes any of you, who are clutching your pearls at my disgraceful lack of culture, seeing Autumn De Wilde's adaptation of the beloved novel makes me want to read the source material.
To further declass myself, I will say that the reason I was most excited to see this movie was to make comparisons between it and another (very) loose adaptation of the novel, Clueless. Being a woman teetering on the lines of Generation X and Millenial, Clueless is a perennial favorite of mine. It makes sense why Amy Heckerling chose Emma as a classic to revamp because the humor and situations are universal and timeless.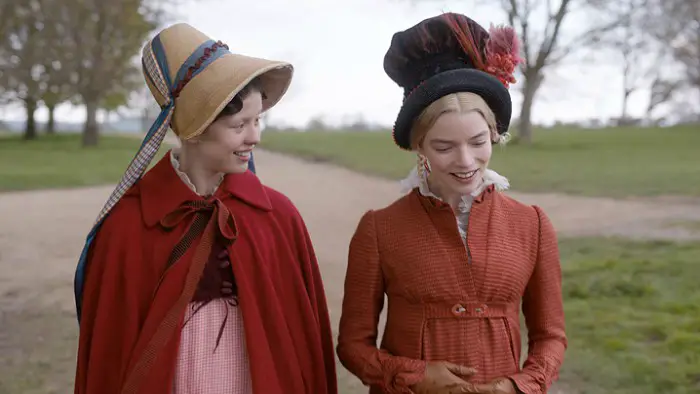 "…complications abound in Emma's plan because Harriett is already in love…"
For those of you who don't know the basic plot of Emma, here we go. Anya Taylor Joy, of The Witch and Split/Glass fame, stars as the titular character, who is a young woman of means who lives in the British village of Highbury. She lives with her father, Mr. Woodhouse (played to hilarious perfection by Bill Nighy) in a vast estate called Harefield. At the outset of the film, they attend a wedding that wouldn't have happened if Emma hadn't matched up Mr. and Mrs. Weston (Rupert Graves and Gemma Whalen).
The matchmaking does not stop there, however. Since Mrs. Weston is no longer at Harefield, Emma sets her sights on young Harriett Smith (Mia Goth), who Emma wants to mold in her image and set Harriett up with the town pastor, Mr. Elton (Josh O'Connor). But, complications abound in Emma's plan because Harriett is already in love with farmer Mr. Martin (Connor Swindells). Though, Emma thinks Harriett should aim higher than that.