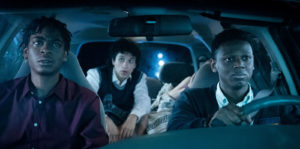 NEW TO THEATERS! Emergency takes us back to the "One Crazy Night" genre. This time though, there is a lot more on director Carey Williams and screenwriter KD Davila's mind than just putting our hapless heroes through hell for laughs. The movie features a strong message on the dangers that linger to this day for anyone of color in the structures of society.
It's nearly Spring Break, and upstanding college student Kunle (Donald Elise Watkins) is reluctantly being dragged to seven parties in one night by his best friend Sean (RJ Cyler). Dubbed the "Legendary Tour," it will be the first time any student has gotten into all seven campus parties in one night. The plot is methodical and planned down to the minute. So much so that Kunle has been accepted to Princeton but can never find the right time to break it to Sean.
"Call the police. But that's not so easy for Sean and Kunle, who are black, and Carlos, who is Latino…"
The two drop by Kunle's place and make a shocking discovery: Emma (Maddie Nichols), a young white female, has stumbled from one of the parties in the neighborhood and passed out on the living room floor. Digging his geeky gamer roommate Carlos (Sebastian Chacon) from his room, Kunle asks Carlos who the girl is. No one knows. No matter. Call the police. But that's not so easy for Sean and Kunle, who are black, and Carlos, who is Latino, the three of whom are standing over a passed-out white girl.
It is here that the audience must decide to climb on board with Emergency or not. One's experience will probably dictate that decision. As Kunle argues that they call the police, Sean reminds him that black men and police are a dangerous mix, especially if a white girl is involved. Carlos is a timid neutral party. Yet the danger is very real. So the three decide to drop the girl off at the hospital. Meanwhile, Emma's sister Maddie (Sabrina Carpenter) enlists her friend Bianca (Gillian Rabin) and party boy Rafael (Diego Abraham) to go looking for her.
Emergency is a sharp, farcical comedy with a message. Davila's script is airtight. You will be asking, "Why don't they just A, B, or C?" Not long after, they will, and you will see why it wasn't a great idea. The plot is also nicely symmetrical in that if a thread is laid down, the writer makes sure to circle back and pay it off. Hats off to Williams, who deftly plays up the comedy while never dropping the racial message. As is often the case with first-time features, though, this could have been trimmed a bit — just a few cuts here or there to tighten up certain moments.
Emergency screened at the 2022 Sundance Film Festival.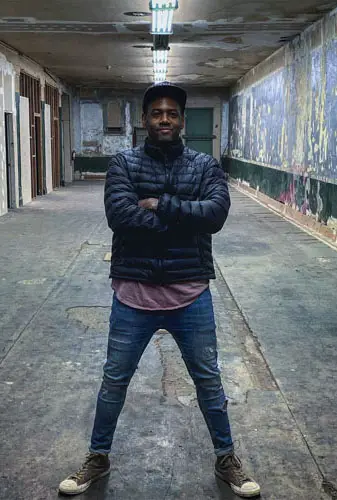 "…a sharp, farcical comedy with a message."