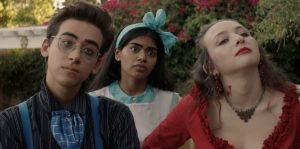 Jonathan Wysocki's Dramarama is a tender coming-of-age drama about five high school seniors who gather one last time before going their separate ways. The writer/director neglects a full-blown nostalgic view of the 1994 setting, favoring the time period be used as potent window dressing. The story is a sapient and endearing drama about friendship and the bittersweet uncertainty that comes from taking the next step after high school.
Gene (an absolutely delightful Nick Pugliese) is a closeted teen who wants to come out to his conservative drama club friends before leaving for college. He's getting ready for a Victorian-themed sleepover-mystery party by donning a Dr. Jekyll costume. Dressed as Miss Havisham, the high-spirited and high-strung Rose (a commanding Anna Grace Barlow), the one throwing the party, leaves for NYU in the morning. Claire (a wonderfully demure Megan Suri), outfitted as Alice (as in Wonderland), is disciplined and wide-eyed. The acidulous Ally (Danielle Kay) comes as Mina Harker from Dracula, while the upbeat Oscar (Nico Greetham) is Sherlock Holmes.
Most of Dramarama takes place in Rose's house, as the friends playfully imitate their fictional roles and try to solve the mystery created for the soiree. It is immensely comical to watch the young performers relish the mischief, be it intended or not. Todd Bell's smooth, whip-fast camera work ensures that no quips or reactions go unseen.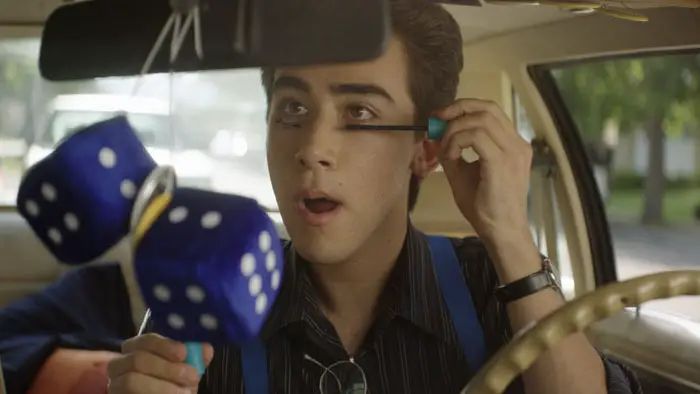 "…a closeted teen who wants to come out to his conservative drama club friends…"
There is a lot of drama concerning the forthcoming departure of these students and what that means for their friendship, especially when every one of them harbors unspoken truths. Things become extra sticky with the appearance of the charming high school dropout JD (Zak Henri), who walks in on the group and exploits their insecurities. Gene is unsure how his friends will react to him coming out. Claire is secretively attracted to Gene. Ally questions her friendship with Rose. And Oscar has a secret of his own.
Dramarama wouldn't work if the performances or the characterizations were lacking. Fortunately, Wysocki got ahold of talented young actors who have natural chemistry. The boldly written screenplay yields sharp, rapid-fire dialogue that suits everyone's disparate personalities. Additionally, the filmmaker wisely gives Greetham more to work with because not only does he give a phenomenal performance, but his character has one of the more nuanced arcs. With Gene and Oscar, Wysocki documents their internal struggle without forcing them into stagy situations, and they share moments that are heartbreakingly or awkwardly authentic.
Altogether, the friends have a jocular dynamic characterized by their shared love of literature and pop culture. However, that cohesiveness shifts ever so slightly after the friends contemplate more about their futures and divulge difficult truths. This results in engineered monologues and conversations, but the actors do a good job of making these moments modestly emotional and sincere, and the director wisely avoids huge dramatic reveals. Instead, he gives the characters a proper, earnest send-off that perfectly adheres to the mellow, sympathetic tone.
Dramarama is a quickly-paced and decidedly clever feature debut. That is in large part due to the witty script and the colorful performances. Jonathan Wysocki understands what it's like to be a theatre kid and a teenager discovering themselves. Plus, he truthfully explores young people's apprehension about beginning a new life experience without the friends they've known for years. Overall, this is a lovely gem of a movie.