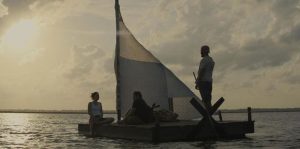 NEW TO HULU! Should the story behind a film influence the final rating or score for that film? Should a film score higher for reasons not presented on the screen. If we allow these external forces to influence our criticism, then it diminishes truly great pieces of cinematic art. But there is use for backstory. If I had not heard the story behind Tyler Nilson and Mike Schwartz's The Peanut Butter Falcon, I would have passed it by. That said, while the story behind the film is an inspiring one, this is a great piece of cinematic art.
Zak (Zack Gottsagen) is a young man with Down Syndrome, forced to live the rest of his young life in a retirement home. With no family, he's a ward of the state, and this is where he's been assigned. Seeking freedom, Zak's latest attempt to flee gets him listed as a "flight risk" by the home's supervisor Eleanor (Dakota Johnson). But bars be damned, and Zak is going to escape then head to a school located far off in the Florida Panhandle to fulfill his dream of becoming a professional wrestler. Said school is run by veteran wrestler The Salt Water Redneck (Thomas Haden Church). With the help of his roommate Carl (Bruce Dern), Zak escapes the facility for good.
Meanwhile, there's Tyler (Shia LaBeouf), who, like Zak, has no family after the death of his older brother Mark (Jon Bernthal). His search to make a buck leads him down a path of trouble and now he is on the run after burning down the business of the questionable fisherman Duncan (John Hawkes) and his heavy Ratboy (Yelawolf). These two really want to kill Tyler…like dead.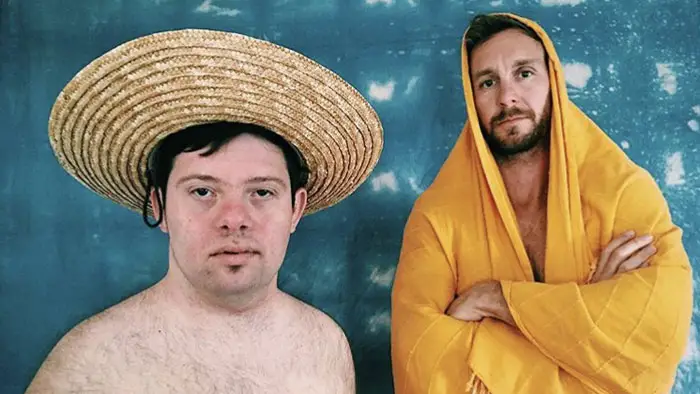 "…a young man with Down Syndrome…to fulfill his dream of becoming a professional wrestler."
As fate would have it, Zak was hiding in the boat Tyler uses to escape Duncan in the Florida marshes. Their relationship starts off rough. Tyler wants nothing to do with Zak, and Zak wants a friend. After a serendipitous run-in with Eleanor, Tyler learns of Zak's plight agrees to help him meet his wrestling hero. The rest of the film is essentially a buddy-road-trip on foot and raft.
Whatever you've heard good or bad, The Peanut Butter Falcon is a brilliant and touching movie. It's absolutely exceptional piece of storytelling from start to finish.  The film was written for its star, Zack Gottsagen, and passed on by many studios because they didn't want Zack to star in it. Really, Scarlett Johansson can't play everything.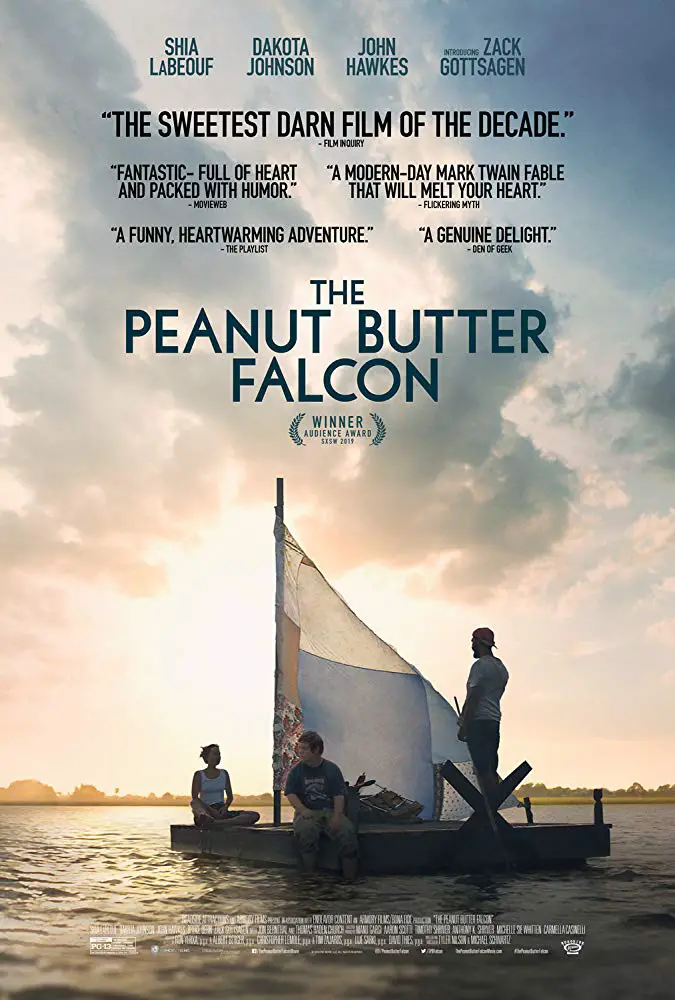 "…The Peanut Butter Falcon is the sh!t!?!"