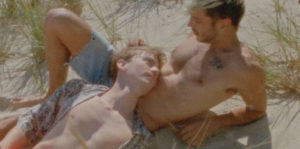 Writer-director Josh Cox's sultry, sweet LGBT short film Dino at the Beach is a lovely confection of summery delight. Here we have a small slice of heaven, a beach day at the end of summer, where Dino (Devon McDowell) is sunning himself. Sebastian (Matteo Correa) walks up and asks to park his stuff near Dino. Naturally, this leads to a romantic encounter that is left open-ended, as most beach romances tend to be.
The press notes suggest this is the late 1960s. But to these eyes, the styles and fashion presented could have been anywhere from the '60s to the '80s. This was the time when people wore speedos and shorts that were just too diminutive for the 90s person. The clothes also tend towards the skin-tight nature that has come back into fashion with the advent of meggings (leggings for men), jeggings (jeans that are actually leggings), and just plain leggings.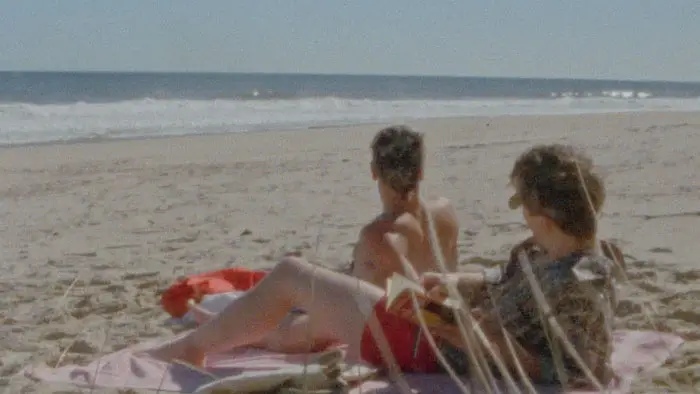 "Sebastian walks up and asks to park his stuff near Dino."
What also perhaps lends an understanding of the time period is smoking. Currently, smoking is frowned upon. In the heyday of the '60s to '80s, smoking was a perfectly acceptable adult behavior. I vividly recall being a child in the late '70s, and there was always a choice of 'smoking' or 'non-smoking' areas of restaurants to sit and partake in. Depending on which set of grandparents I was with determined whether the evening's repast would be punctured by cigarette smoke. Here, the smoking is sultry and lends itself to Dino and Sebastian's romantic interactions.
A gorgeously composed and shot film, Dino at the Beach takes full advantage of its coastal scenery, beach-oriented mise-en-place, and clear chemistry between its leads. Cox mixes these ingredients to create a sweet and excellent short film. Seek this out if you enjoy LGBT cinema.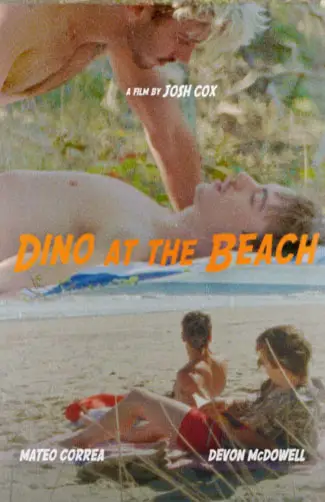 "…gorgeously composed and shot..."