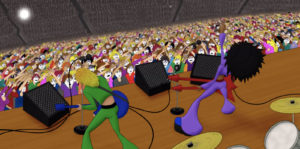 AWARD THIS! 2023 NOMINEE! Death Of A Rockstar is an animated rock opera written, directed, produced, edited, and starring Röcket Stähr. The filmmaker wears his inspiration on his sleeve, with Tommy, The Wall, Yellow Submarine, and The Rocky Horror Picture Show being a few of the most obvious. Is there still a place for politically charged, message-oriented epic stories in modern society, much less one that is animated?
The year is 2164. Extreme fascism has taken over the world, and anything that might create subversive thoughts has been banned. This includes magazines, motion pictures, shows, and, most importantly, rock music. Scientist Creigh A. Tor (Stähr) can't stand rule under the "Czarist Manifesto," so he creates Röcky. Röcky is born to lead a group of heavy metal rebels who wish to free the world from the tyranny of C. Czar (Stähr) and his oppressive regime. Röcky rises to fame (at least in the underground), falls in love, and must discover his own path.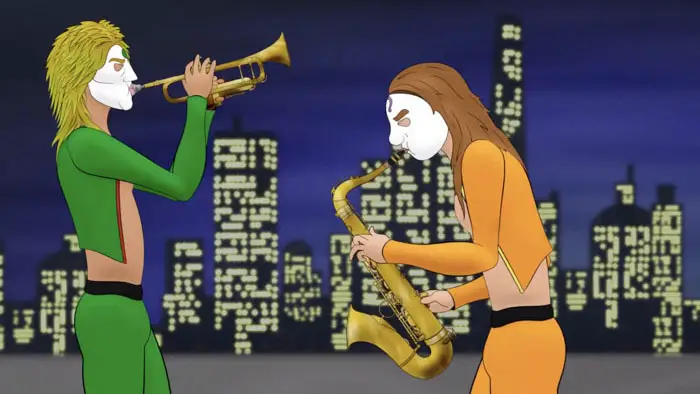 "Röcky is born to lead a group of heavy metal rebels who wish to free the world…"
The animation of Death Of A Rockstar is an interesting mix of a motion comic and a high-end YouTube series. The simple designs and bright colors take a moment to get used to, but it gets the job done once acclimated. Specifically, every singing character's lip-synching/mouth movements are so detailed and impressive that their bodies' limited range of motion becomes less of an issue (walking looks awkward).
But really, the point of any rock opera is the saga is told through songs. While the story lacks subtlety of any kind, even the most revered rock opera isn't exactly understated. The narrative works, as Röcky is an easy character to root for. Creigh A. Tor's backstory (told late in the game) is also relatively moving. Each song is catchy and keeps viewers' attention. This is apropos, considering the movie is wall-to-wall music.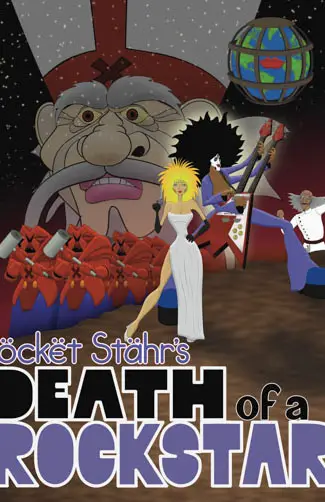 "…[a] love letter to creativity and music..."