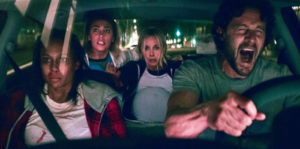 CINEQUEST FILM FESTIVAL 2020 REVIEW! Written and directed by Sean Perry, the thriller Dash is about rideshare driver Milly (Alexander Molina). He's struggling to make ends meet, especially since a one-night stand, Emily (Monette Molo), whom he met at a Dave Matthews concert, is eight months pregnant with his child. As such, the driver is trying to sell some crack on the side. Of course, this makes each ride more tense than usual, as Milly must figure out if he can try and sell to his passenger.
Things get even more harried for Milly when he receives a call from "My Favorite Prostitute," also known as Tara (Paige Grimard), his wife. Now, the driver must contend with obnoxious tourists, an overdosed lady, a sonogram appointment, and dinner with both Tara and Emily. Why that is enough to make any person crack under the pressure, much less such a mentally unwell scumbag such as Milly.
The first 20 or so minutes of Dash are boring. Watching Milly pick up one quirky passenger after another gets repetitive, as the film is one shot from the windshield looking inward. However, once all the groundwork is laid out, things become much more interesting. The pressure coming towards Milly from all angles is being fully felt by him and the audience. This is where Perry's strong characterizations come into play. Milly isn't likable in the least, but the script makes him captivating, and his sense of being overwhelmed is relatable.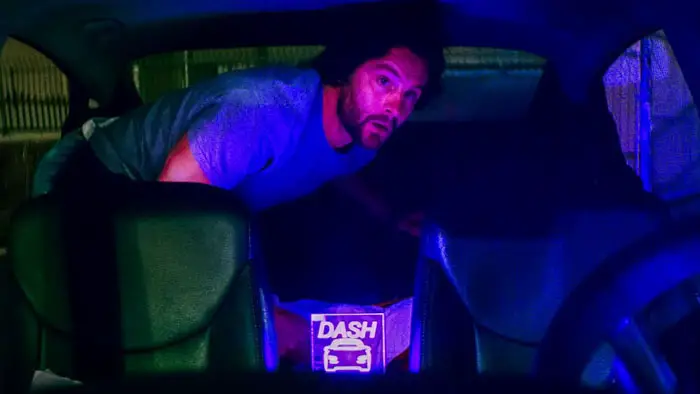 "…the driver must contend with obnoxious tourists, an overdosed lady, a sonogram appointment, and dinner with both Tara and Emily."
Bringing Milly to smarmy life is Molina. The actor wisely plays things understated for a majority of the runtime. He stammers, makes vocal tics, and can barely get a word in edge-wise at moments. But when Milly freaks out, Molina becomes a powerhouse of intensity, forcing all watching to sit up and truly take notice.
The supporting cast of Dash is no slouch either. Grimard is sympathetic just through her voice, allowing viewers to understand how her job as a doctor affects her. Likewise, Molo is charming as the rough-around-the-edges pregnant lady. She's pure fun, and her bewilderment at late in the game plot reveals is perfectly acted.
In terms of directing, Perry effectively stages each moment in or around the car. The filmmaker slowly builds the tension until he's grabbed audience members by the throat and has their undivided attention. The last act is enthralling and works at on every intended level.
Dash is slow to start, but strong characterizations keep viewers attention from waning too much. As things begin to look bleaker and bleaker for the lead, Sean Perry ably asks for more and more investment from the audience. Thanks to a strong cast and a brilliant ending, he pulls the hat trick off rather well.
Dash screened at the 2022 Cinequest Film Festival.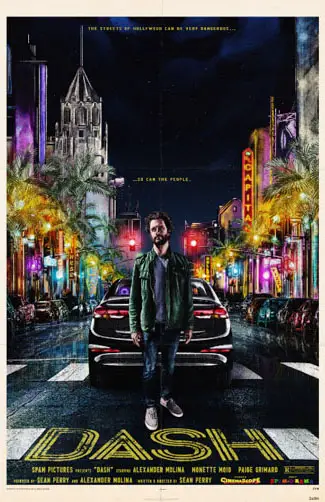 "…the last act is enthralling..."