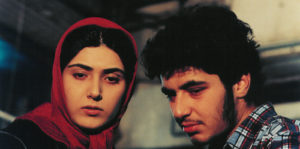 2K RESTORATION FILM REVIEW! I've never quite seen a love story than the one portrayed in Asghar Farhadi's 2003 feature, Dancing in the Dust. As foreign films tend to do, they show us a side of humanity through a cultural lens that feels different yet very much the same.
Nazar (Yousef Khodaparast) is a boisterous young Iranian lad whose only crime in life is falling in love with the beautiful Reyhaneh (Baran Kosari). There's nothing wrong with Reyhaneh except that her mother is a prostitute. When Nazar announces his engagement, his grandmother is so incensed she demands Nazar to immediately divorce Reyhaneh or lose his family. All of his pleading regarding Allah, the Koran, and Reyhaneh's innocence fall on deaf ears.
So, Nazar decides to proceed with the divorce. He schemes with Reyhaneh to divorce in public. He pledges his love by coming through with the required marriage dowry (customs regarding engagement, marriage, and divorce are literally backward here). Realizing that the double shifts he's working aren't enough to pay off the marriage loan, Nazar then runs away to the desert to avoid the police seeking repayment. While in the desert, the chatty and annoying Nazar begs a grizzled and reserved old man (Faramarz Gharibian) to let him live in his desert van and help catch venomous snakes.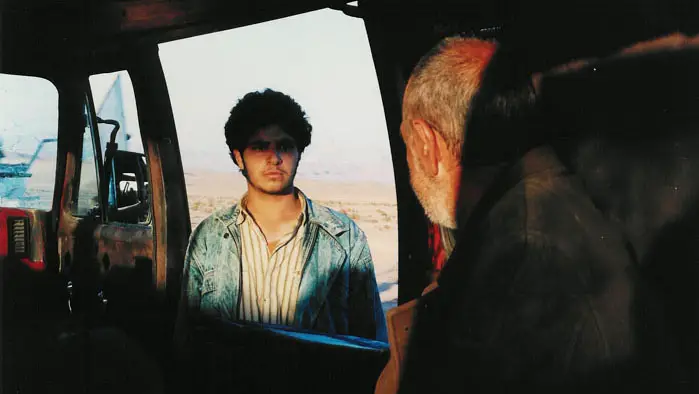 "…pledges his love by coming through with the required marriage dowry…"
I'm very mixed when it comes to Dancing in the Dust. Most of my issues relate to the ending. Let's start with the good. Khodaparast is terrific as the young, naive Nazar. The opening credits involve Nazar and Reyhaneh falling in love and borrowing money to get engaged. The sequence does last long, but it's effective. As a character, Nazar is annoying and never stops talking, but his moments with Reyhaneh are endearing, and their love is undeniable. This setup perfectly leads to his adamant defense of his betrothed as nothing like her mother, his love for her, and why Allah will bless this union.
But the narrative loses it all in the end. Now, everything that happens to Nazar afterward is done for love. When Nazar finds himself in the desert, his interactions with the old man are sobering. Ultimately, the contrasting personalities clash and intertwine in a very interesting way, and much of it is due to the cultural difference between Iranian and U.S. storytelling. The plot is essentially about two opposing characters learning something about themselves when placed in extreme circumstances. The extreme here is very much so.
Where many Western audiences may find problems is the ending, which, of course, I can't say anything about. Suffice to say, it might feel a bit unsatisfying, and I think it might be because of cultural differences. It's missing a nice, tidy resolution that would greenlight this in Hollywood. I'll say there's a sweetness and sadness to the film's final moments.
I'll admit, I've not seen many films from Iran, particularly romances. Dancing in the Dust is a unique tale receiving a well-deserved and proper U.S. release with this 2K restoration.
For more information about Dancing in the Dust, visit Film Movement's official website.