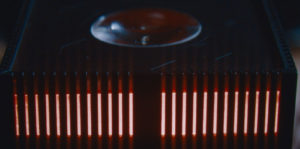 What would you do to contact a loved one who has passed on? Would it bring closure or further one's descent down the grief spiral? These questions lie at the heart of Creep Box by writer-director Patrick Biesemans.
Dr. Caul (Geoffrey Cantor) has created a technological marvel. His box-like contraption can be coded to simulate a person's consciousness shortly after death. Caul made it to try and contact his deceased wife, but offering others the sense of closure he has yet to find is a boon. The company he works for, HTDA, sees the technology as a means to help solve crimes and whatnot. But Caul soon learns there's a price to pay for fiddling in the afterlife. Is that a price he is willing to pay, or will his co-worker Ellis (Ian Lithgow) and daughter Becca (Annie Young) be the ones left picking up the pieces?
Creep Box imbues technology with a soul in a manner of speaking. The concept is high enough to instantly intrigue cinephiles who think they've seen it all; unless they've seen the short this 95-minute sci-fi drama is based on, they've never seen something like this. But because the titular device is a singular small object, it is also perfect for an indie film to tackle. The box itself looks slick yet realistic, and with one exception, the locations are all modern-day offices, houses, and such places. Biesemans clearly knew exactly how to spend his budget, and that care comes across in every frame.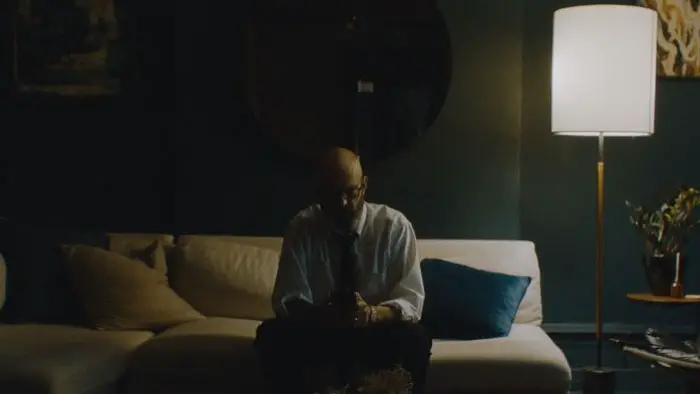 "…Caul soon learns there's a price to pay for fiddling in the afterlife."
The screenplay gives each character realistic motivation and compelling backstories. Becca shows up at her dad's house and says, "You don't answer my calls or texts; I show up unannounced. That's how this works." Aside from being a clever line, it informs all watching of the dynamic between parent and child without lengthy exposition. Similar things can be said of a scene involving a client named Sylvie (Katie Kuang), her suicide victim husband Adam (Adam David Thompson), and the word confirmation.
Unfortunately, not everything about Creep Box works. The sound mixing is off, as the dialogue is much lower than the music or ambient noise. Lines cannot be heard entirely as the music or ambient noise drowns it out. Plus, the end takes a shift that, while logically, should have happened earlier, as it contains the ultimate themes of the project.
But the cast makes venturing through those issues easy. Everyone plumbs the depths of emotions and stirs up authenticity and heartbreak. Cantor makes his character more than a grief-stricken genius. He comes across as truly wanting to help people. Lithgow is sweet, and Young seems to truly care for her on-screen parent. Kuang gets some of the best moments in the entire film and sells every sorrowful second. Thompson's voice acting conveys a dirty, heavy soul in a way that makes sense.
Creep Box is a well-made film that tells a fascinating story. The cast is excellent, and the score fits every scene perfectly. The film will most assuredly break a few hearts by the end.
"…a well-made film that tells a fascinating story."