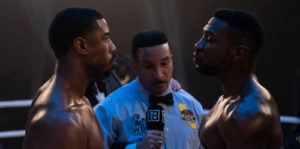 NOW IN THEATERS! Where Creed III excels over Creed II is in the stakes. Just watch the trailer, and you know they are high. Director/star Michael B. Jordan, and writers Keenan Coogler, Zach Baylin, and Ryan Coogler put Adonis Creed right where he needs to be: as the underdog. Our film opens with our hero (Michael B. Jordan) retiring at the top of his game as the heavyweight champion of the world. Years later, Adonis now spends more time with his significant other, Bianca (Tessa Thompson), and their deaf daughter, Amara (Mila Davis-Kent), in their Hollywood Hills mansion.
Boxing may have left Adonis, but he has not left it as he's dipping his toe into being a boxing promoter. He's taken on the new phenom Felix Chavez (Jose Benavidez) as his first project and already has a big fight lined up. But one day, while heading to his car, a figure from Adonis' past appears in the form of Damian Anderson (Jonathan Majors). The two were best friends in their youth, living in a group home. In a series of flashbacks, we come to learn that Damian was a promising fighter and Adonis carried his bags. Damian's career was about to explode, but in an instant, he spent almost two decades in prison in an incident incited by the young Adonis. But after all these years, that's all water under the bridge, right?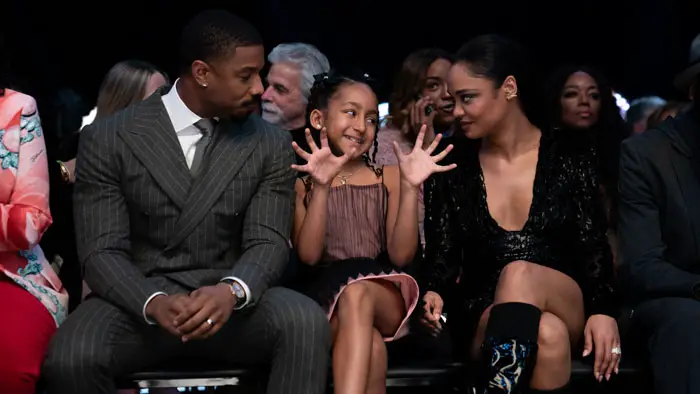 "Adonis is the underdog once again. Damian is physically bigger and stronger."
Feeling a bit of survivor's guilt, Adonis invites Damian to train at the gym and work as a sparring partner for Chavez as he prepares for the big fight. But Damian makes it clear that he doesn't have much time left at his age and wants to become champ. Adonis tells him that he needs to work his way up to the top on his own. Then, in a not-so-freak incident, Damian's true colors are revealed.
I expect two things from a Rocky/Creed story — boxing and stakes. What Creed III does right are the stakes, as Jordan and company set them pretty high. Adonis is the underdog once again. Damian is physically bigger and stronger. Now, add the fact that he bends the rules and cheats, not to mention his significant axe to grind. On the other hand, Adonis was the one who got away. He saw his best friend go to prison when Adonis could have easily taken his place. His big character flaw is needing to be held accountable for his actions.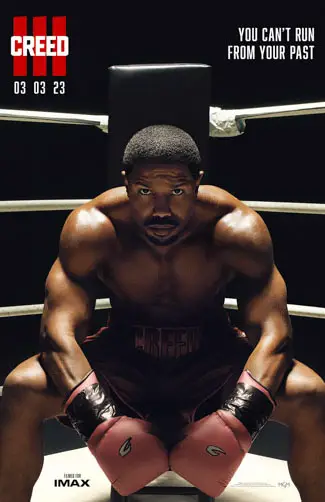 "…about the love and honesty of family and, ultimately, forgiveness."