One thing I've learned in all my 40+ years of watching movies… never underestimate Sylvester Stallone when it comes to the success of Rocky movies.
Though technically the story of Adonis Creed is its own story, there's no denying its place in the "Rocky cinematic universe," and deservingly so. The first Creed film took audiences by surprise in how deep and well thought-out the story was. It wasn't just "another Rocky movie" with a Black face attached to it. It was a very layered and introspective look at a young man trying to live up to an image of a father he never even knew. And his father just happened to be one of the best fighters in the world, Apollo Creed!
(I'm not going to go over all of the plot points of the first film cause this isn't that review. If you haven't seen Creed, do yourself a favor and cue it up on Netflix. You'll thank me.)
In Creed II, the latest installment of the series, we see Adonis (Michael B. Jordan) with Rocky (Sylvester Stallone) by his side, reaching his dream of becoming "Heavyweight Champion of the world!" And soon after winning the title, proposes to the longtime (and partially deaf)  girlfriend Bianca (Tessa Thompson), who later he finds out is pregnant with their daughter. Basically, everything that can go right for Creed is happening.
But, on the flipside of this we go to the Ukraine where we see a young, angry, and enormous monster of a human-being in Victor Drago (Florian Munteanu), son of the disgraced and "broken" Ivan Drago (Dolph Lundgren), relentlessly training and destroying men in the ring, one after the other. And with the help of an ambitious boxing promoter looking to make a name for himself, issues a very public and humiliating challenge to Adonis Creed for the belt. For those who don't know (or never watched Rocky 4), Ivan Drago was the man who killed Apollo Creed in the ring.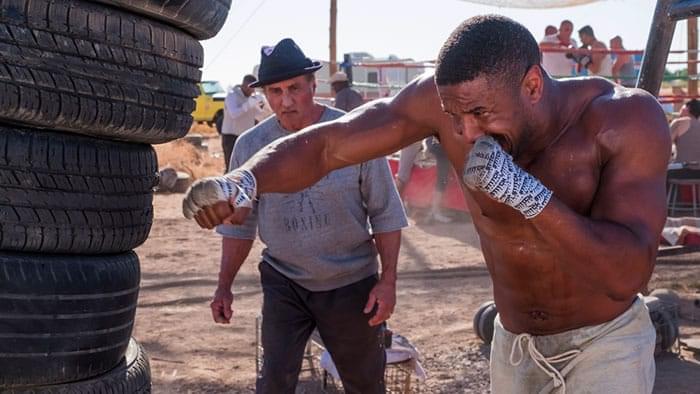 "Naturally, Adonis took the bait, ignoring the warning from his friend and trainer Rocky…"
Naturally, Adonis took the bait, ignoring the warning from his friend and trainer Rocky, as well everyone else in his life telling him this was a bad match-up. The true hit though came when Rocky told Adonis he couldn't be involved in the fight, after watching what Ivan Drago did to his father, he couldn't stomach it. But hot-headed and driven by revenge, Adonis found another trainer in Tony "Little Duke" Evers (Wood Harris) and proceeded to fight Victor.
After a horrific and painful beating by the young Russian, Adonis' body and confidence are shattered. But because Victor was disqualified for an illegal attack, Adonis title as champion remained. And now he's faced with the choice of giving up the belt or fighting again.
We also see what Victor's life is like during of all of this, and even with the defeat of Adonis, there is still pressure from not only his father, but his estranged mother, and very prominent Russian figure-heads to bring the belt home to Russia.
And that's the beauty of this film; nothing is as "cut and dry" as good vs. evil. Both men are trying to outlive the shadows of their fathers.
Even with all the action that comes with it, this sequel kept the heart of the first movie. Where Creed dealt with living up to an image, this movie was about motivations. And more specifically, what is he fighting for? Is it just revenge? Is it for his family's honor? Or was it just to prove something to himself?
"…a family movie that asks some very deep questions with a lot of great action…"
Then there are the obvious undertones of the importance and complications of family from Adonis and his new family to the tense relationship with Victor Drago and Ivan. And even the tangled relationship with Rocky and his son Robert (played by Milo Ventimiglia, also seen in Rocky Balboa). Adonis is learning how to be a father, having never grown up with one and Ivan and Victor back in Russia trying to redefine their relationship. And finally, Rocky trying to repair the distant relationship with this son, and meeting his grandson for the first time.
Having said this, Creed II isn't without its faults. I've read other reviews that "attempt" to pick the movie apart and to be fair. Some scenes lasted a lot longer than they should have that made the film drag. Another problem I had was Creed's overall motivation for his rematch with Victor. Especially after the beating he took that had him literally pissing blood, the reason to fight him again needed to be very clear, and understandable. But, even with these small problems, it wasn't enough to take away from how strong the overall story is.
This movie was a very obvious "passing of the torch" in a way. I don't know if Stallone will be involved in a "Creed lll" or even if it's on the table. And even if he's not, new director to the series, Stephen Caple Jr. gave the Rocky character a fitting and satisfying end.
Creed II is gonna to be a winner for any fan of the Rocky franchise, but it's also going to be a win you over if you're not. At its core, it's a family movie that asks some very deep questions with a lot of great action in-between!
Creed II (2018) Directed by Stephen Caple Jr. Written by Sylvester Stallone and Hodari Coker. Starring Michael B. Jordan, Sylvester Stallone, Tessa Thompson, Dolph Lundgren, Florian Munteanu, Wood Harris, and Phylicia Rashad.
9 out of 10