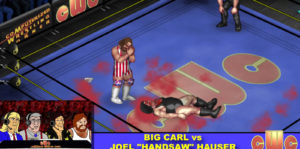 Two of my favorite genres (wrestling and animation) are harmoniously brought together in Shawn Parke and Tom Dell's comedy series, Computerized Wrestling Corner. The concept is simple: The Computerized Wrestling Corner (CWC) is looking to find a television home for its wrestling program. The series opens with the fictional show's pilot episode, but looming in the shadows is a mysterious dark figure with a score to settle.
The television broadcast features three animated commentators: Greg Thunderbar (Tom Dell), Chet Ritlin (Shawn Parke), and "Blind" Willie Wizard (Adrian Makins). Joining the announce team for the first match is CWC wrestler Brian (Arlo Keister), who currently lives at Greg's house. The show's wrestling is generated using the video game Fire Pro Wrestling World.
Computerized Wrestling Corner has a very indie wrestling feel with the over-the-top characters of the old World Wrestling Federation. The first fight features Big Carl (a variation of Andrew the Giant) and Handsaw Hauser (Hacksaw Jim Duggan). Handsaw pulls out a fork during the match and starts forking Big Carl in a display of enraged silliness.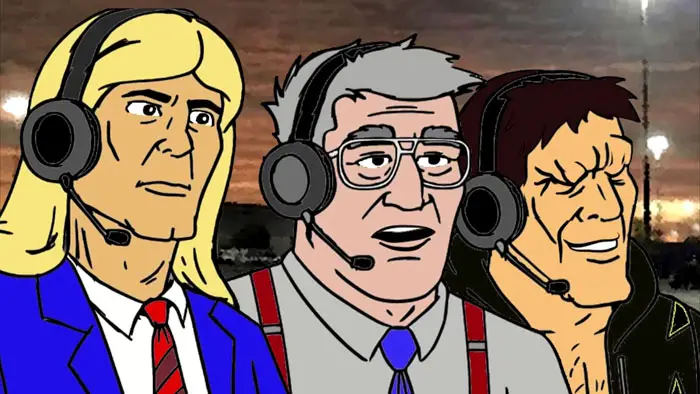 "…pulls out a fork during the match and starts forking Big Carl…"
The comedy of CWC comes from the improvised banter of the announcement team. It reminds me a lot of the banter between Fred Willard and Jim Piddock in Best In Show, where the actual announcing has little to do with what's going on in the squared circle but often gets deeply personal into the lives of the announcers and the wrestlers.
I'm not usually a fan of improvised banter as often it's about the actors droning on and on hoping something magical, or better yet funny, will come out. However, Parke and his team manage to keep the conversation witty and engaging with perfectly placed moments of crazy and silly. They're good, but I wish they focused more on telling a primary story.
Computerized Wrestling Corner has everything it needs to work: interesting characters, a method to animate the action, silly commentators, and good improvisers who can bring the show to life. All it needs to do is give the audience a sense of direction where the main story is headed, and you have a series worth watching.
For more information about Computerized Wrestling Corner, visit Shawn Parke's official website.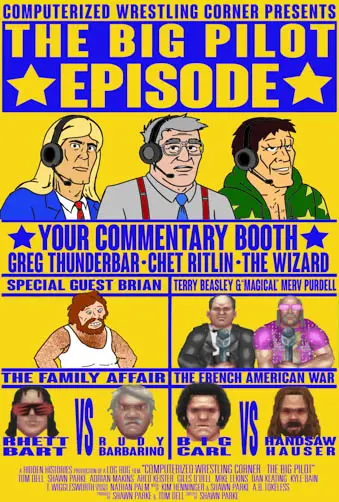 "…a series worth watching."