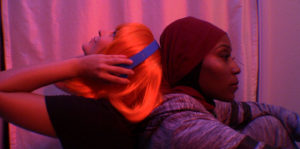 One of the most difficult challenges of reviewing films is understanding a filmmaker's vision. Sometimes one can find themselves in a difficult position of trying to write an objective review of something you don't quite grasp. This is the dilemma I faced while reviewing Malcolm Carter's independent drama, Company of Prophets.
The story focuses on Mala (Nakell Rashad), a former rapper who has been away from home for five years. After her father's passing, her brother recommends Mala for a position at Careful Thoughts, which specializes in working with young homeless adults. She, however, doesn't feel she's qualified for the job, never having worked with kids, nor does she have kids of her own. Yet, despite her reluctance, Mala manages to get the position.
Kevin (Kris Marshall) becomes the first client with whom Mala works. His rapper moniker is "Tale of Two Cities." He brings his girlfriend, Talia (Ashley Nief), to his first session with Mala, which takes place at her home. Kevin, however, has other plans when he tells Mala that he needs to get some partying out of his system before she can help him. Unfortunately, Mala isn't keen on his friends, and Talia isn't fond of her. Things turn around, however, when Talia discovers Mala is a rapper and goes to her for her advice. As Mala gets to know the group, she learns more about them and herself, complicating everything.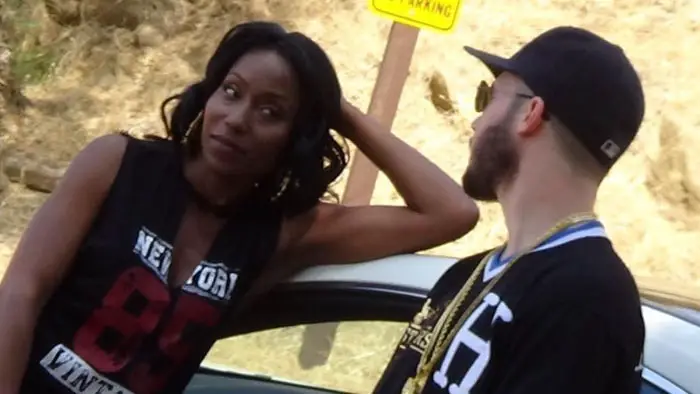 "…Talia discovers Mala is a rapper and goes to her for her advice."
Company of Prophets left me scratching my head at some of its odd choices. Most puzzling was the color grading. The entire picture is blue. However, depending on the scene, there's a gray, green, or red tone. Interestingly, or confusingly, the trailer does not contain these color filters and has the correct tone and palette. I mentioned before how a critic's job is to understand and interpret a filmmaker's vision. I'm sure Carter has an artistic reasoning behind this, but it cannot be figured out within the context of the film itself. This discrepancy made the decision even more strange. It is distracting and doesn't add to the narrative. If the film had established itself with straightforward coloring and then cut to scenes of a different tone, it would've helped.
Aside from the coloring, the story goes in multiple directions, not settling on one piece. The narrative starts with Mala finding a new path in life, but it quickly veers away from that. The house party, for example, has multiple interludes with characters either having banal conversations or arguing. It takes up to twenty minutes of the 101-minute runtime, bringing the momentum to a halt. After a while, it meanders to the point where you're unsure whose story it is and how it'll all come together. There is a subplot towards the last quarter involving Mala and Talia, which is when things get interesting. But it takes so many detours to reach that point it's too late.
It's always disappointing when a film's intention goes over one's head. Writer/director Malcolm Carter had an evident purpose behind his choices. Company of Prophets could have benefited from letting the audience in on the meaning to understand the vision.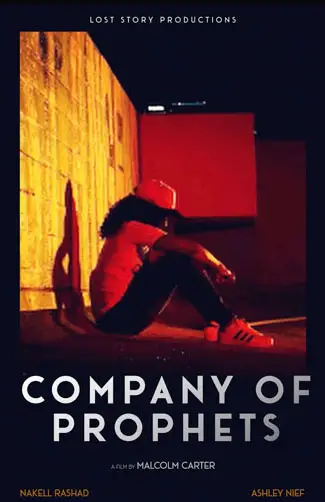 "…Carter had an evident purpose behind his choices."