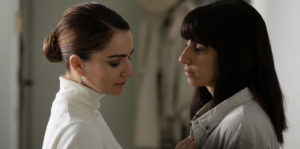 SANTA BARBARA INTERNATIONAL FILM FESTIVAL 2023 REVIEW! Writer/director Maayan Rypp's Israeli film The Other Widow, co-written by Anat Gafni, opens with a scene that perfectly encapsulates the feelings of unexpected joy followed quickly by disappointment. In fact, it could be seen as a metaphor for the trappings of an affair. Ella (Dana Ivgy) is sitting at home when a delivery man brings her a meal she didn't order. She happily prepares to eat it when the man returns, apologizing for the mistake and takes the food away. We can all relate to it, and it gets the audience to sympathize with the character right off the bat.
Being able to empathize with Ella is critical because she's "the other woman," which is stigmatized and frowned upon within society. She's a theater dresser and mistress to playwright Assaf (Itamar Rotschild), who suddenly and unexpectedly died at a young age. She feels all of the natural emotions of grief for a loved one but can't be open about how close she was to her lover.
Ella attends a Shiva (a Jewish morning ritual that lasts for seven days) for Assaf and meets the beautiful and elegant widow Natasha (Ania Bukstein). However, almost immediately, her co-workers, aware of the nature of Ella and Assaf's relationship, discreetly admonish her for being there. However, Ella disregards them and tells Natasha that she is a close co-worker of her husband. It feels like Ella is stealthily navigating an environment she knows she shouldn't be in but is deeply fascinated and drawn to through her shared grief.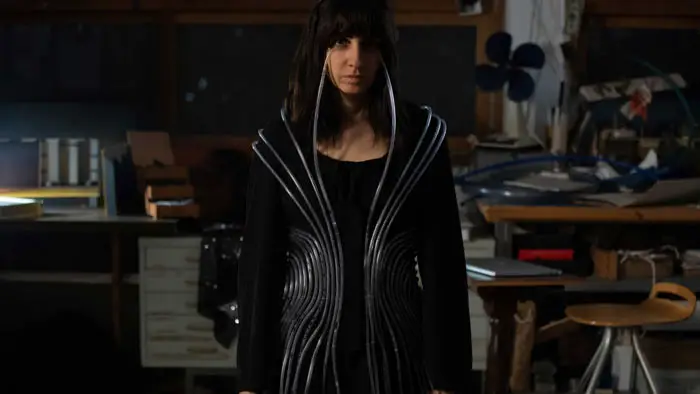 "…attends a Shiva for Assaf and meets the beautiful and elegant widow…"
The outstanding script, performances, and direction of The Other Widow kept me just as riveted to watch it as Ella is to learn about Assaf's home life. Ella has pivotal encounters with the departed's mother, Yehudit (Irit Gidron), who suffers from dementia. This makes Ella feel like she can be open and frank with her. Brother Dan (also Itamar Rotschild) is strongly attracted to the main character. Ella feels strange about this revelation, especially considering their identical appearance, which she mentions. The awkward humor that comes about from these situations is finely crafted.
The Other Widow is a dark, comedic drama which is quite difficult to pull off. However, Rypp does so expertly, making the film all the more impressive considering that this is her feature film debut. Ivgy is sublime as Ella. She's so relatable that we root for her to form the taboo type of connections with Assaf's family that the character longs for. Bukstein is hypnotic as Natasha, making Ella's implied desire for approval all the more understandable.
There's a captivating scene where Ella has made a stunningly unique dress full of tubes for a play. As she gazes at the gown, tears flow as she can no longer hold her emotions in. There are also smaller but equally fine touches, such as Ella always having nervous nose bleeds around Natasha, that add to the storytelling.
The Other Widow is not conventional, but that is something I enjoy about it. The master craftsmanship of the cast and crew transports us to a different point of view that you can't take your eyes off of.
The Other Widow screened at the 2023 Santa Barbara International Film Festival.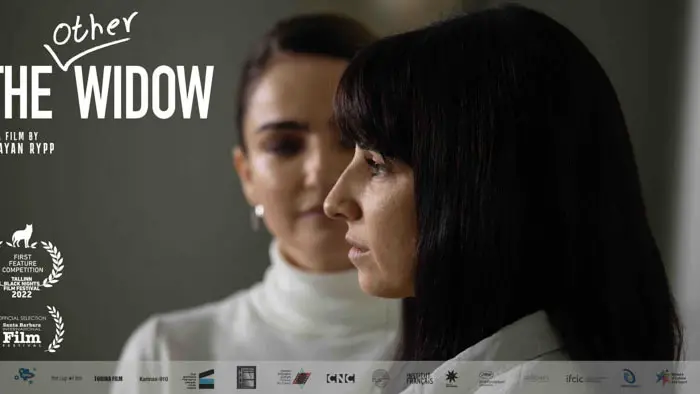 "…outstanding script, performances, and direction..."