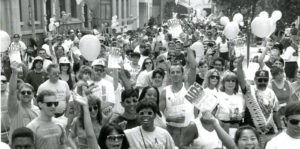 SANTA BARBARA INTERNATIONAL FILM FESTIVAL 2023 REVIEW! It's been more than forty years since the HIV/AIDS epidemic struck the U.S. and changed the world forever. Directed and edited by Jeffrey Schwarz, Commitment to Life is a documentary about the early years of the HIV/AIDS epidemic in Los Angeles. The filmmaker spotlights the people who spoke up and offered comfort and direction in a time of widespread panic.
The filmmaker initially taps into the Hollywood mindset of aspiring actors coming from small towns. Queer Eye star Karamo Brown describes coming to L.A. and struggling to fit in. But then he found Catch One, the premiere black gay club opened by Jewel Thais-Williams, and immediately found his community. Activist Stephen Bennett remembers reading about a mysterious illness affecting gay men in town. Nobody knew how it was transmitted, and that uncertainty erupted into fear.
After detailing the rise of HIV/AIDS and how it was misunderstood by society, Commitment to Life looks closely at the evolution of the AIDS Project Los Angeles, the first agency to provide HIV/AIDS services and safe spaces for the gay community. Community is the key word here that best characterizes the courageous activists, survivors, volunteers, and celebrities who came together in a time of need. When the government failed to respond, everyday people took it upon themselves to fight HIV/AIDS the best way they could with the very little they had. What they did have was a voice, and when voices come together, change becomes all the more possible.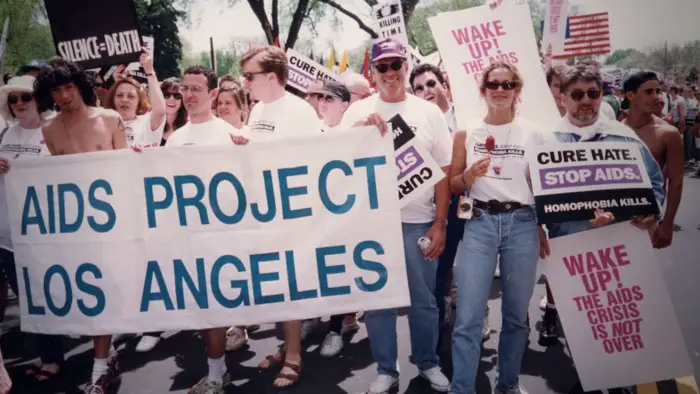 "…the early years of the HIV/AIDS epidemic in Los Angeles."
Matt Redman knew the LGBTQIA community had to take care of each other, and so, with the help of others, he co-founded the APLA. This agency serves those living with AIDS. If they need necessities or even human interaction, the APLA provides them. Unfortunately, there was a lot of fear stemming from a lack of information. So, in response, the AIDS project hired volunteers who'd take calls from frightened people and try to alleviate those fears. In combining old footage and present-day interviews, Schwarz captures the anxiety of those who reacted ineptly to the virus. At the same time, he acknowledges the bravery of those who overcame that anxiety and any misconception head-on with persistence, passion, and empathy.
The strength of Schwarz's direction lies in the fact that a wide range of subjects and projects (such as the Minority AIDS Project) are recognized. Plus, he isn't afraid of acknowledging the criticism of APLA, albeit briefly and not too extensively. Moreover, the film evaluates cultural shifts from all angles, charting how Hollywood and media eventually took on a bigger role in shifting the narrative surrounding stigma. Schwarz seamlessly edits every piece of footage so that it resonates strongly. The interviewees can't help but break down in tears because they remember who they lost to AIDS. It is incredibly heartbreaking to observe. "I still cry because I remember," says Melinda Serrano. Her words linger long after the documentary ends.
Schwarz's intensely moving and inspiring documentary about the HIV/AIDS crisis is absolutely essential. What you see are real people who have endured, fought so hard against the virus, and bravely resisted the wrath of politicians who tried to make them feel unworthy and ashamed. Unfortunately, this fight is far from over. It is on us to continue it and to remember and honor those who are no longer with us. Commitment to Life is a reminder that even in the bleakest of times, empathy and love can prevail.
Commitment to Life screened at the 2023 Santa Barbara International Film Festival.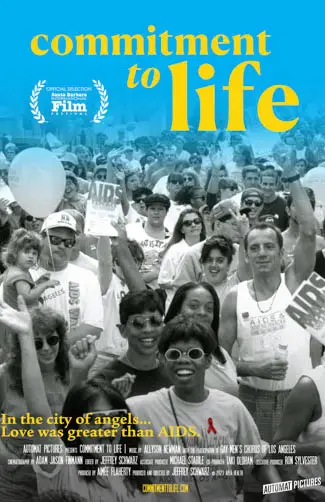 "…a reminder that even in the bleakest of times, empathy and love can prevail."