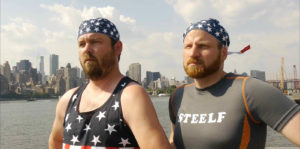 AWARD THIS 2023 NOMINEE! After watching Berndt Mader and Ben Steinbauer's odd documentary, Chop & Steele, I've never been so jealous of two people more in my life than Found Footage Fest founders Joe Pickett and Nick Prueher…then I realized I still like making money and don't like starving.
As mentioned just words ago, this is the story of Joe Pickett and Nick Prueher, who were lifelong friends after realizing they both liked Pee Wee's Playhouse as children. The two were inseparable and created a life of mischief making producing odd videos and engaging in a series of juvenile prank phone calls.
Working odd jobs as young adults, the pair discovered the existence of corporate training and industrial safety videos. Their collection grew into a library of quirky hometown clips to mind-numbing industrial safety tapes, preachy religious bits, cat videos (eye roll), festive holiday overkill, martial arts mishmashes, dodgy gambling 'how-tos,' and the gem, 'Nude Golf.'
Seeing the humor in these woefully self-unaware subjects, the pair compiled the best of the worst and founded the Found Footage Fest—a traveling celebration that still tours today.
In hopes of boosting attendance, Joe and Nick reluctantly went on the morning news circuit. They realized that the staff and hosts didn't exactly do their research. For example, their names would be misspelled on the chyron, and it was clear these folks weren't paying attention.
Joe and Nick decided to create odd characters, write up a fake press release, and then see what happens. The first attempt was Kenny Strasser, played by Mark Proksch, a yoyo champion who uses the yoyo to teach children about climate change. The stations bit and Mark made several appearances on morning TV with an inept yoyo routine. When the hoax was revealed, Mark received offers to appear on The Office, Better Call Saul, and Portlandia…to name a few.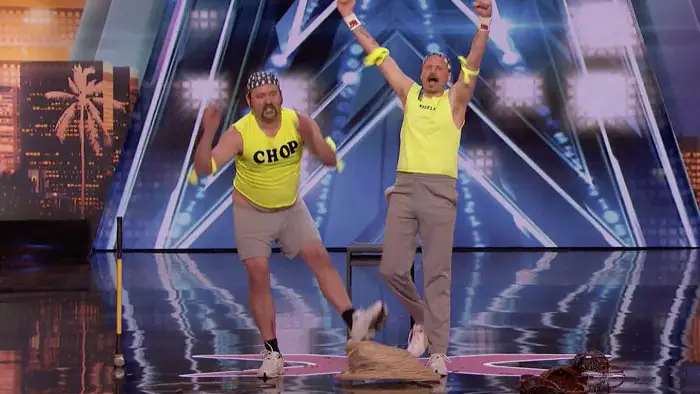 "It gets serious when you have no money and must defend your antics in federal court."
As they say, "Go big or go home." Joe and Nick took things a step further with the strong man duo Chop & Steele. Claiming in their press release that they won the TV competition show America's Got Talent (easily researchable), the pair got booked by eight morning shows. Their appearances were laughable, and yeah, these stations got punked.
Let's just say the news industry does take well to being made a fool. Months after their appearance as Chop & Steele, one station's parent company sued the pair for fraud, conspiracy to commit fraud, and copyright infringement. Now, who's laughing?
As someone who enjoys comedy and a good laugh, Chop & Steele delivers on so many levels. The film is not short on the antics of Joe and Nick. There is no institution in the world that can not stand to be taken down a peg or two. The sheer balls they have to pull pranks on a local…even a national level, is awe-inspiring.
Comedians who appear in the doc, including David Cross, Reggie Watts, and Bobcat Goldthwait, are enamored by their accomplishments. In contrast, the pair is not exactly as rich as Cross, Watts, and Goldthwait. Their love of the art of comedy is pure, and their wallets reflect that.
The documentary centers on this lawsuit with Gray Television. It gets serious when you have no money and must defend your antics in federal court. There is footage of their depositions that is not to be missed. You'll see in the doc that the lawsuit gave them a national platform, which ultimately led to an ironic run on America's Got Talent.
Walking away from Chop & Steele, I have great admiration for Joe Pickett and Nick Prueher. They see the silliness behind the world's seriousness. It's stated in the film that they use mischief to save the world, and I wholeheartedly believe that.
Chop & Steele is nominated for the 2023 Award This! Unreal Outsiders Documentary.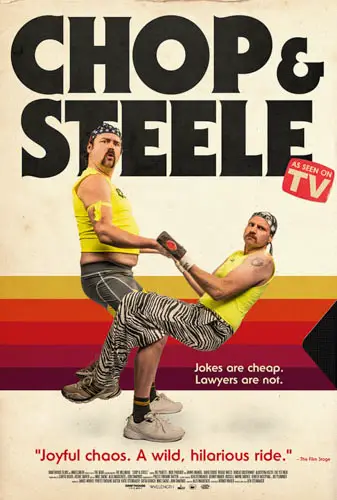 "…see the silliness behind the world's seriousness."