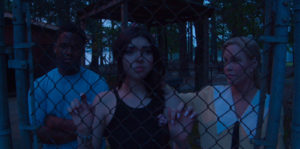 In light of some states' all-out assault on the LGBTQ+ community, Childen of Sin could not be more timely. In the grand tradition of horror stemming from societal issues of the moment, writer/director/actor Christopher Wesley Moore is interested in delivering a message amidst all the murderous mayhem. Within the first few scenes, we realize there is a generational chasm stretching between the adults and children in the small-town Missippi the slasher takes place in.
Teenage siblings Emma (Meredith Mohler) and Jackson (Lewis Hines) live in the buckle of the Bible Belt, with their god-fearing mom (Keni Bounds) and their creepy stepfather (Jeff Buchwald). While Emma struggles to hide a pregnancy test and Jackson sneaks a peek at porn, their parents are entrenched in listening to, and proselytizing about, the "sins of the flesh" and the "evils of homosexuality." When both teens' secrets are revealed, they face the fire and brimstone of their stepfather, and their mother quickly ushers them to a camp that she tells them will ensure their safety from any further abuse from their puritanical Pa.
But when they arrive at the "Abraham House" and meet its chaste leader Mary Ester (Jo-Ann Robinson), they realize it may not be such a safe harbor. The religious retreat is designed to "pray away the gay," and the siblings join a number of other teens whose parents feel the camp can exorcise any behavior they deem unclean. But a dark secret comes to light, forcing Emma and Jackson to fight for their lives.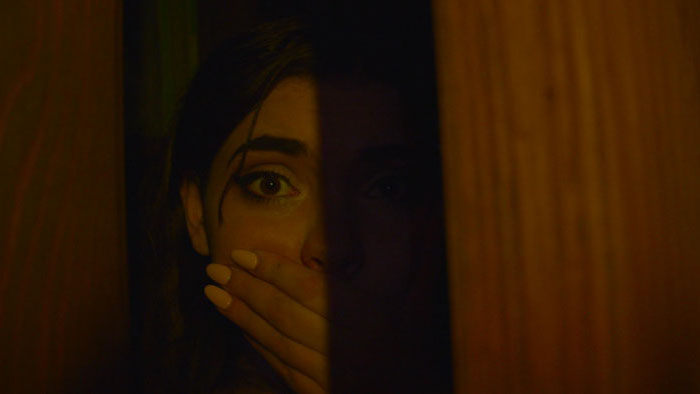 "…a dark secret comes to light, forcing Emma and Jackson to fight for their lives."
While Children of Sin was obviously shot on a shoestring, Moore spends sufficient time establishing his characters with detail that helps the audience invest in the well-being of the young heroes. And that is important when they are under the thumb of smug schoolmarm-y Mary Ester. Robinson channels Piper Laurie's Margaret White (the pious mother of Brian DePalma's Carrie), whose own repressed feelings are hidden behind gritted teeth and a painted-on smile. But the threat of her retribution looms large through the walls of the Abraham House. Even her son Hank (Moore), who claims to have been "cured," treads lightly around her.
While the film feels very of-the-moment, that's par for the course for Moore, who's proved adept at braiding horror with hot-button issues, be they abortion (2016's Blessed are the Children), social media celebrity (2019's Triggered), or here with conversion therapy and religious zealotry run amok. The filmmaker always seasons his works with wit, creative transitions, and an affinity for the genre and the practical effects of the 1980s video-shelf era. Most of the flaws are of a budgetary nature. Would someone please get this talented filmmaker some good lighting kits! Move along if you're incapable of getting past that sort of thing.
But if you do opt a pass on Children of Sin, you will rob yourself of witnessing a sharp slasher throwback that not only has a reverence for religious horror but for the genre itself. It is told with a creative vision and a bold voice that is bound to find a loving congregation.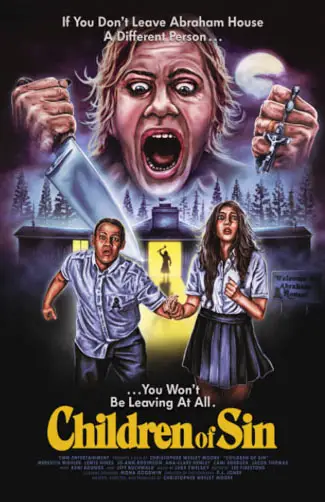 "…a sharp slasher throwback..."