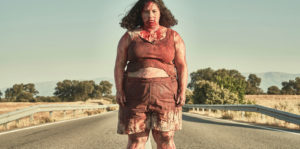 SUNDANCE FILM FESTIVAL 2022 REVIEW! While watching the opening scenes of Piggy (Cerdita), I began mentally running through the horror movies I've seen and their inclusion of plus-sized characters. And to put it bluntly, being overweight in horror is either a death sentence or a source of fear. From victims such as Catherine in Silence of the Lambs and Shelly Finkelstein in Friday the 13th: Part 3 to antagonists such as Leatherface in Texas Chain Saw Massacre and Eddie's Mom in It, weight is a factor.
Expounding on her harrowing short, writer/director Carlota Pereda's feature of the same name takes a sobering, bloody look at body image, shame, and cruelty both casually and explicitly. It follows in a long tradition of spectacular Spanish horror. Opening almost shot-for-shot as the 2018 short, Piggy is constructed around a fierce performance by Laura Galán as plus-sized teen Sara. She lives a sequestered life with her little brother within the family butcher shop run by her genial dad (Julián Valcárcel) and her protective-but-volcanic mother (Carmen Machi).
Sara often slips out during siesta to the local pool when there are no other people around so that she can enjoy the relief from the sweltering summer sun without fear of torment from a trio of local female bullies who taunt her with the titular nickname. One particular day, the girls return to torture Sara, nearly drowning her as they snap social media images for their amusement. They take Sara's clothes with them, forcing the girl to walk through the streets in her bikini while other residents mock and mercilessly comment about her weight.
"They take Sara's clothes with them, forcing the girl to walk through the streets in her bikini…"
Meanwhile, we catch glimpses of a stranger (Richard Holmes) who watches everything from the sidelines but clearly has his own motives. When he drives by in his rickety truck, Sara sees the very same girls who tormented her struggling in the cab, pleading for help. The short faded to black there, but the feature presupposes what transpires between Sara and her dark savior.
With Piggy, Pereda does not skimp on any aspect of her observations, burrowing further into the panic within the tiny town, the family dynamics within Sara's home, her internal struggle with justice, and her eventual run-in with the stranger. Anchoring everything is Galán in a fearless, demanding role. She's seen as both victim and accomplice, as she obviously is withholding information that could help with the whereabouts of her oppressors. The filmmaker even explores Sara's growing connection with the Unknown Man, as he has alleviated her pain, but at what cost?
While the film can function strictly as a horror, and it does get bloody, it demonstrates a commitment to mood and its emotional core. Cinematographer Rita Noriega captures equally the idyllic sun-kissed Spanish villa as well as the shadowy fringes where fear lurks. It can be argued that Sara takes her sweet time with divulging the wrong-doings to anyone. Her keeping quiet can also represent the internal struggle for someone who feels not only noticed but appreciated for who she is for the first time and taking a moment to bask in that excitement. It ratchets up the suspense while also examining all facets of human behavior.
Piggy is a bold forward step that works beyond its horror center and is hopefully the sign of future appreciation for both Galán and Perdea.
Piggy screened at the 2022 Sundance Film Festival.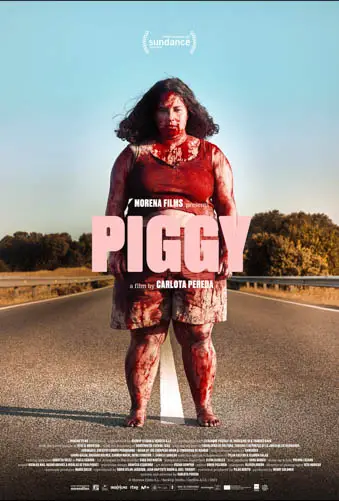 "…a bold forward step..."