Full disclosure – I'm not much of a sports enthusiast. I don't seek out fictional movies that revolve around an athletic thematic element, and I sure as hell don't go out of my way to watch documentaries about it. Which is why Nick Budabin's Chi-Town is so swimmingly good. Truth be told, good is not nearly a strong enough word to describe it – this basketball documentary is downright fantastic. It conveys two parallel messages; one being an inspiring narrative of success in the face of hefty obstacles, and the other echoing an alarming wake-up call about the loomingly persistent threats plaguing residents of Chicago's inner city.
Keifer Sykes is a 19-year-old who started playing basketball already at the ripe young age of two. He shines in the sport, and Budabin's film follows his phenomenal accomplishments playing college ball for the University of Wisconsin, and subsequent journey in the NBA draft. The fearless point guard is not only a remarkable player but also has a sentimental story that Chi-Town alluringly invites others to learn.
A good-natured, charismatic individual, Keifer radiates with kindness and determination. This perception doesn't waver, as we watch the young man rebound from lows and highs in his personal and professional life. Growing up in the inner city of Chicago, the athlete hones his talent and eventually sees his dreams spring to life.
"2,096 career points, 500+ assists, and 400+ rebounds make Keifer a record breaker…"
2,096 career points, 500+ assists, and 400+ rebounds make Keifer a record breaker in Horizon League history. We watch him also solidify his spot thanks to his innate knack to triumph even with implausible odds stacked up against him – at six feet tall, Sykes is one of the shortest players in the game. The athlete doesn't ever appear to let his underdog status affect his performance; instead, the lack of belief offered by others seems to fuel his internal fire.
Alas, while the young man experiences days of buzzer beaters and acclaim away from home, his heart belongs to family and friends who remain rooted in a community repeatedly shaken by dire events. Not long after Keifer moves to Wisconsin to play for The Green Bay Phoenix, the boy's dad passes away suddenly. Dealing with his grief by playing no longer for himself, but in memory of his father, the up and coming college star still continues to strive onward.
We see this thread of loss as a devastating pattern. Keifer's friend Marty is shot and paralyzed in a Chicago drive-by, as is his high-school basketball coach, Coach Shake. Another friend is locked up and set to remain behind bars for 12 years. Heartbreakingly, a fellow basketball player who plays at Marshall High School, Keifer's alma mater, is murdered in cold blood while standing on the street.
"…a tribute to a gifted basketball player while serving as an indication of the chaotic terror a city overrun with violence…"
Perhaps the most unsettling part of it all is the repeated thought vocalized by the athlete; this level of overwhelming fear concerning lives stolen around you is just an inescapable part of growing up in the place he's always called home.
"Every day you just step outside your house and you're scared – you just have that fear that something might go wrong. You have no control over it." Chi-Town is much more than just an insider glimpse into the life and times of a blossoming basketball star's meteoric rise. It's a chilling, microscopic look at gun violence in one of America's most populated cities. For all intents and purposes, this documentary acts as a stirring piece of non-fiction. It will likely remind die-hard sports fans of ESPN's 30 for 30; combining a socio-political implication with admiration of athletic prowess.
Chi-Town carries you through an intense, bittersweet and wildly satisfying game that lingers in your mind for days. The feature presents a tribute to a gifted basketball player while serving as an indication of the chaotic terror a city overrun with violence battles in every waking moment. Budabin manages to make a piece of art that entertains, resonates with, and awakens those who partake.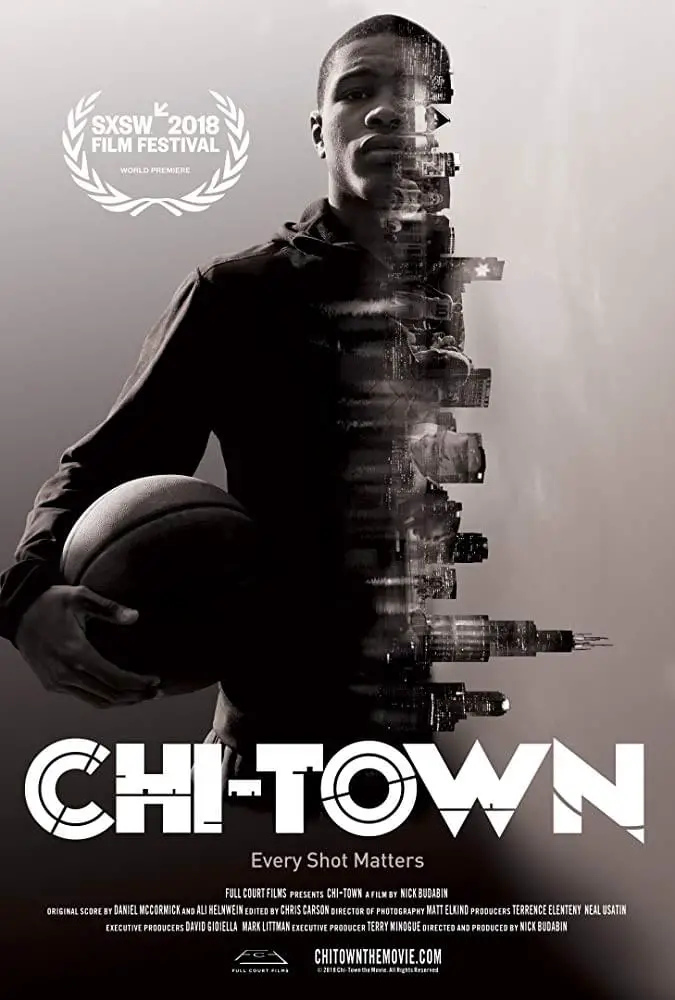 Chi-Town (2018) Directed by Nick Budabin. Starring Keifer Sykes. Produced by Nick Budabin, Terry Minogue, Neal Usatin, Terrence Elenteny, David Gioiella and Mark Littman. Edited by Chris Carson. Cinematography by Matt Elkind.
9 out of 10 stars