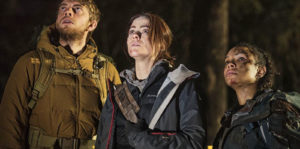 CINEQUEST FILM FESTIVAL 2023 REVIEW! It turns out the old-school monster formula still has a few tricks up its pouch in the Australian ecological horror flick Carnifex. Director Sean Lahiff's strong debut opens with actual footage of the giant wildfire that destroyed lots of wilderness in Australia not long ago.
Bailey (Alexandra Park), a documentarian, is going out into some of the deep green woods left untouched. She is filming two scientists, Grace (Sisi Stringer) and Ben (Harry Greenwood), as they track which species are still left. They go around making molds of paw prints as well as checking the footage from remote cameras while camping outside. Ranger Matt (Darren Gilshenan) is on call if there is any trouble, as he doesn't put up with wise-a*s behavior in his woods.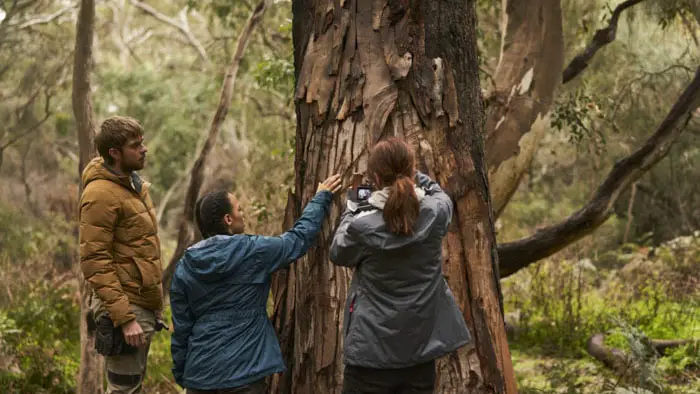 "…an unseen monster sneaks up behind Gary and eats him."
After dark, in another part of the forest, hunter Gary (Brendan Rock) enjoys a beer when his dog, Goose (Holly), runs off. While looking for the dog, an unseen monster sneaks up behind Gary and eats him. So moving forward, while everybody does their jobs in the wild during the day, at night, some kind of monster is closing in to eat them. The big environmental question is whether anyone is smart enough to figure it out before it is too late. 
Tastes change when you get older. As a child, I had no patience for movies where you don't see the whole monster until the end. As I grew older, I understood the reasons for this, mostly budgetary, but I still felt emotionally cheated. The traditional monster movie only has maybe 12% to 15% actual monsters. Now that I am in the mire of being middle-aged, I am actually appreciating the slow-burn storytelling of the classical monster format. Suddenly, the practice of only seeing fleeting glimpses of the creature until the full reveal at the end makes sense, which is the case with Carnifex.