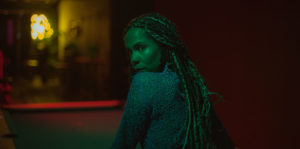 NOW ON VOD! Sharon Stone's Catherine Tramell and Christian Bale's Patrick Bateman may have some competition in writer/director Andrés Farías Cintrón's sex/crime thriller Candela. A broodingly atmospheric film that tracks the ripple effect of corruption and murder involving a sexy, drugged-up homicidal heiress, a corrupt cop, and a drag queen named Candela. Oh, and if you like neon lights, there are a ton of neon lights involved, too.
Set in the Dominican Republic, days before a looming hurricane, Sera Peñablanca (Sarah Jorge León) is preparing to marry Senator Daniel Beltrán (Frank Perozo). Sera is an heiress to a powerful company, and it is clear this is a politically arranged marriage that is out of her control. Her life is heavily medicated. During the day, she puts on the sedated, smiling senator's fiancé act, and at night, she frequents a burlesque club where she has sex with any man of her choosing. This destructive cycle continues until she forces a stranger, Renato Castrate (Richarson Díaz), at gunpoint to return to her apartment and ultimately have sex with her. After a physical struggle, Renato is found dead in the street below her apartment.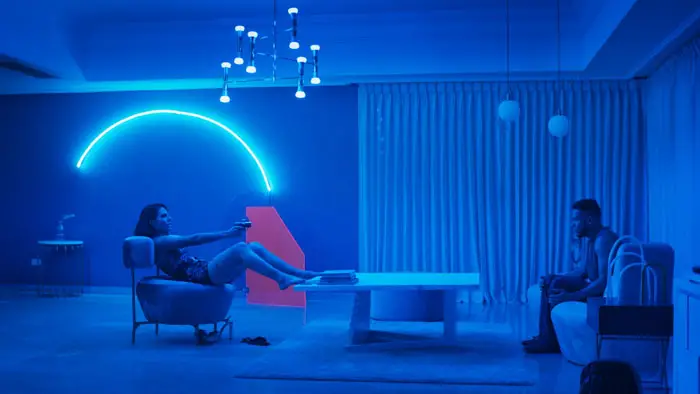 "…heiress to a powerful company, and it is clear this is a politically arranged marriage that is out of her control."
Sera's powerful allies frame Renato for attempting to rape Sera. The film then begins to follow the veteran lieutenant Perez (Félix Germán), tasked with investigating the incident. A tired cop who's giving up trying to fight the corrupt system around him is ordered to halt any further investigation, given the powerful senator's fiancé's involvement. Ready to accept another coverup, Perez is unexpectedly contacted by his estranged daughter, Yajaira (Judith Rodriguez Perez). Her friend Lubrini (César Domínguez), who performs at the burlesque club under the drag name "Candela," was dating Renato. 
Perez is now faced with a deadly existential decision. If he continues the investigation, he risks his life and career, but he has a chance to do the right thing and be a father to his daughter. The focus is shifted once more as we follow Lubrini, Aka Candela, who is now burdened by having to pay the debts of his now deceased boyfriend, owed to a local drug kingpin. In a truly corrupt world, can Sera, Perez, and Candela escape both the literal and figurative hurricane headed their way?