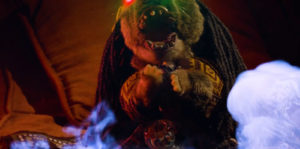 You're going to need to drink beer or smoke weed until your torso explodes to get into the right frame of mind for the horror comedy Caddy Hack, written and directed by Anthony Catanese. At the Glory Hole Golf Course, stuffy owner Wells Landon (Jim Gordon) is making sure everything is perfect for the big tournament. He visits his slob of a groundskeeper, Hambone (Nick Twist), who is squirting everything with his homemade pesticide. Hambone turns around while spraying and catches stuck-up Mr. Landon right in the face. Mr. Landon screams to turn off the spray, but it is stuck. Mr. Landon keeps being sprayed in the face while the sounds of dead horses being beaten ring out in the background. You get the idea.
The slob-only hiring policy at Glory Hole also extends to the caddies, who all congregate in a shack-like structure. There is Smitty (John Evans), Hoh Boy (Dave Lavelle), Dim (David Olsen Jr.) and Fingers (Travis Frank). And none of them can out-party Biggles (Mike Paquin). These brave men are tonight's body count, as Hambone's pesticide has mutated the course's gopher population into bloodthirsty furry murder machines. Will the big tournament go off without a hitch, or will lots of people be wholesale murdered by the cutest little fanged fuzzies you have ever seen?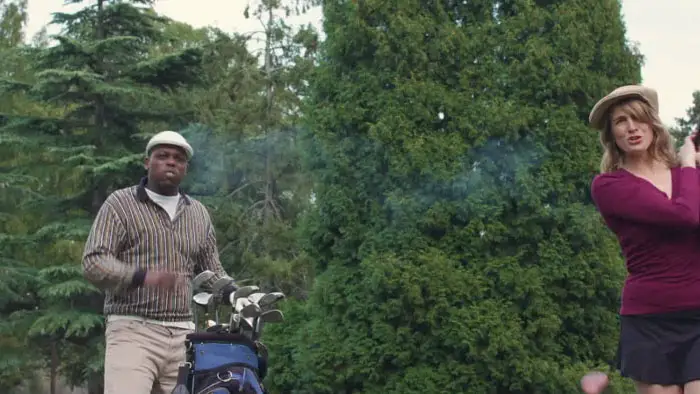 "…Hambone's pesticide has mutated the course's gopher population into bloodthirsty furry murder machines."
As stated above, you will need to get extra wasted with all your pals to get through Caddy Hack. That is because the biggest obstacle to enjoying this movie is your brain. Shut that part down, and you are ready to go. That is because the script's humor level is septic tank, as 80% of the humor is about balls. It's an uneven grab bag of jokes where golf balls are mistaken for testicles or just about testicles, period. A good chunk of the remaining 20% is reserved for fart jokes. There is some material that almost seems to confront the misogyny of its inspiration… almost. But if you are looking for laughs, you will find more sophisticated humor at a kindergarten diarrhea joke contest.
So we have a comedy that is not funny being performed by performers who love the source material but would be the first to admit they can't come close to the talent in the original. So what swoops in and makes Caddy Hack your next must-see group inebriation experience? The same thing that was fundamental in making Caddy Shack the cinema classic it is today in some circles despite it being a mess: the gopher puppet. I am convinced a lot of the following the original amassed was due to children who only paid attention to the gopher parts when watching it on cable. That puppet still remains the biggest draw, so it makes sense to center this parody's horror premise around the furry little guy. Amanda Stauss and Chrissy Cavallo designed the brilliant mutant gophers. Anytime one of these fuzz frighteners hits the screen it is pure blood-flecked entertainment gold. And because it is technically half horror, you will get a pass from the target audience.
Horror fans will put up with the weakest garbage imaginable to reach the good horror parts. Caddy Hack has good horror parts. The mutant party scene at the climax is balls-out wonderful. It is the kind of finale that sprays cheese whiz in the open mouth of your drunken jackass viewing party. So, while the script is caddy slack, the gophers are caddy crack. If the concept of a killer gopher version of Caddy Shack makes you subconsciously hear a beer being opened or a joint being lit, give this a whack.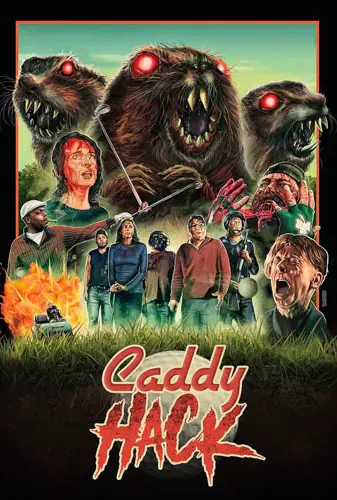 "…pure blood-flecked entertainment gold."