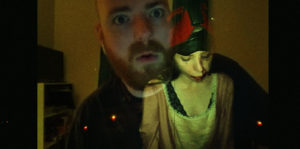 Hold on to your hollandaise, as we have the cinematic equivalent of escargot with the constantly surprising Fresh Hell, the directorial debut of Matt Neal and screenwriter Ryan Imhoff. The movie opens on a Zoom-type meeting with everyone talking normally with the center square occupied by a man screaming his head off. We then cut to another Zoom-type meeting during the 2020 outbreak, where an online reunion of the Athens, Ohio, college drama class is happening. We have Grace (Lanise Antoine Shelley), Todd (Rob Fagin), Cynthia (Crystal Kim), Brian (Tyler Owen Parsons), James (Randolph Thompson), and Kara (Christine Vrem-Ydstie). Scott (Will Mobley) is late, but he was the class a*****e anyway and is now an alt-right podcaster, so nobody is missing him.
But they are missing Laura (Christina Reis), who hasn't been heard from recently. Scott finally shows up and gets his verbal s**t stick pokes in, making it a good time for everyone to get f****d up enough to not care. After they're soaking blasted, Laura joins the meeting, except it isn't Laura. Instead, it's the Stranger (Ryan Imhoff), a dirty, bearded crazy man who acts rude.
After being humored, he gets viciously out of control, and suddenly images of Laura bloodied and beaten fill the screen, including pictures of S&M human puppies crawling around her, humping. Attempts to reach her fail, leading Grace on a hunt to track her friend down. More strange messages appear online from the Stranger, along with pictures of torture. Soon human puppies start showing up in the background of people's apartments while they are meeting online. Then things get pretty bloody and very weird.
Just like stomaching mouthfuls of the garlic-cooked snails mentioned above, Fresh Hell is a movie that many will pass over due to the subject and format. But that would be a huge mistake. Very few viewers out there want to revisit the crawling s**t blizzard of 2020. Even less want to watch a movie comprised of online video chats. I could feel my valve clacking during the set-up. Yet, I keep watching due to my love for Unfriended, the granddaddy of online meeting horror, as well as flashes of clever humor in the dialogue.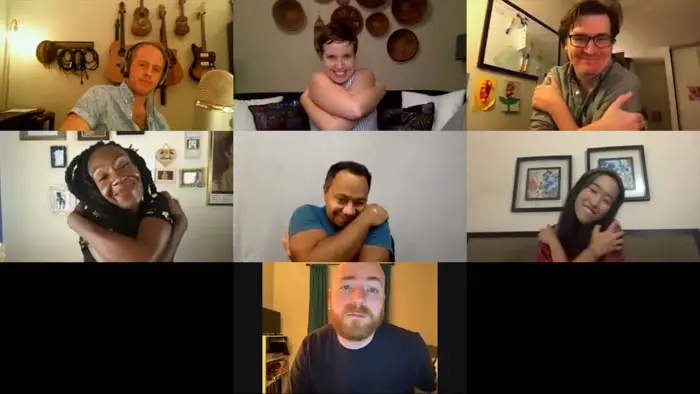 "…Laura joins the meeting, except it isn't Laura. Instead, it's the Stranger…"
Then around the 25-minute mark, everything explodes, and the plot goes into deep WTF territory. It goes from zero to "Whoah Nelly" in seconds flat. It reminded me of The Killing of Satan when the guy in the boat touches a floating twig, and it bursts into a rainbow demon. The WTF incline increases, upping the extremity through genuinely scary sequences.
All throughout this Paul Bartel-level cult title, humor keeps spurting out in places. The finale goes totally Bozo McGillicuddy, with a theater filled with cameras relieving the static meeting squares. Here, the screenplay takes the slasher genre into an existential realm it has rarely ventured to. Here the Stranger's moniker becomes a Camus literary allusion, pretty heady stuff for a gut-muncher.
What remains astounding about Fresh Hell is how well everything works despite the seams showing. Yes, it was made for no money with all your buddies pitching in. It uses the online meeting gimmick that most of us are sick of. The gore is no-frills with cheap, obvious methods to disgust. It has a COVID setting that no one wants to revisit. Yet somehow, it still works. Imhoff and Neal make a purse out of a sow's ear, then fill that purse with some really good s**t. Yeah, the first 25 minutes seem pointless but turn out to be the perfect foundation for all the brilliant ferocity that follows. Plus, Imhoff gives an excellent and twisted performance of his own sick material.
This is definitely for the strange cinema fanatic. If you like horror films, WTF titles, dime-store wonders, indie oddities, incredible exploding plot lines, snuff simulations, or all things cult, prepare for fresh meat with Fresh Hell.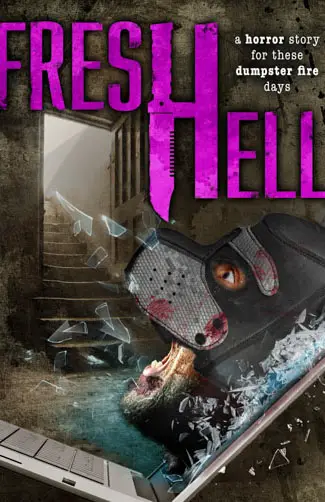 "…definitely for the strange cinema fanatic."