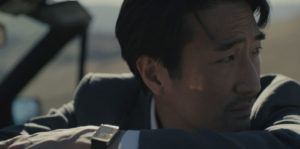 Any traditional romance features a degree of yearning, lust, and intimacy between lovers. But not all romances stand the test of time. In Breakdown, writer-director Hon Hoang documents one man, known only as Him (Steven Lim), as he reflects on his relationship with Her (Angel Lin), who, by all appearances, is no longer here — or their connection is fading, and his mind is wandering.
The six-minute drama is structured as a conversation between Him and Her, who were on their way to a friend's ceremony and got stranded in the middle of nowhere. But this is no traditional conversation. With purposefully abrupt cuts, the sense of time and place is fuzzy as the characters come and go from the frame and divulge their inner thoughts. Him and Her exchange glances and touches while they work through their feelings. The man, dressed in a formal suit, tells Her about an elusive dream he had, although he struggles to recall the details.
He worries about their current predicament, but she's more optimistic: "It's okay to be lost, we'll find our way eventually, or someone will come to help." "Our memories are like dandelions," she says while wearing a yellow dress (designed by Michelle Hebert) that imitates the blossoming stage of a dandelion. In one scene, She twirls behind the car without a care in the world while her yellow dress floats in the wind, injecting a dreamlike quality. He observes attentively, with an inkling of what's to follow. Sadly, like any dandelion, once it reaches the seed stage, everything blows away.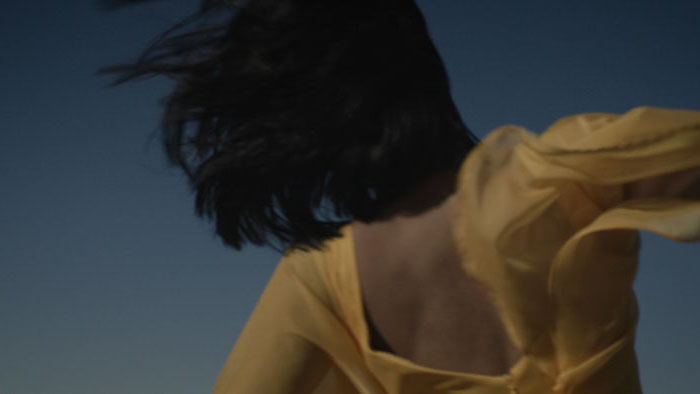 "…tells Her about an elusive dream he had, although he struggles to recall the details."
Throughout Breakdown, Lim plays somebody who is having a breakdown. The actor makes you feel every emotion, delivering each line dolefully, coupled with a yearnful look that pulls you into the character's conflicting mindset. With a soothing presence provided by Lin, She explains that He should cherish the memories but finds it difficult as loss and heartbreak are inexorable.
By now, you're left wondering if She was ever there as the character appears, disappears, and reappears. With the leads stuck in a reposeful and jagged environment, Hoang utilizes the location to underscore the man's uncertainty and fear. Gorgeous wide shots of Him aimlessly walking and standing, completely exhausted by the looks of his wrinkled suit, reinforce the themes.
Pushing the contemplative dialogue aside for a second, what the characters are feeling is evident in how DP Alexander Nikishin deploys reflections and stages shots. There's a close-up of the man sitting in the car while he looks at Her, and the side view mirror shows Her twirling behind the vehicle, although she isn't in sharp focus. This could speak to the idea that His memory of Her is fading. But how can He forget her touch and embrace? In an intimately shot scene of Him and Her looking at each other and deciding whether to embrace, you can't help but wonder if remembering the past will provide solace for them or prevent them from moving on.
As the fearful protagonist reckons with an unfair universe, Hoang contemplates the durability of memory and the risks of loving somebody. With eloquent performances, romantic dialogue, and stunning cinematography, Breakdown is a beguiling, emotionally vivid short that puts you in a trance.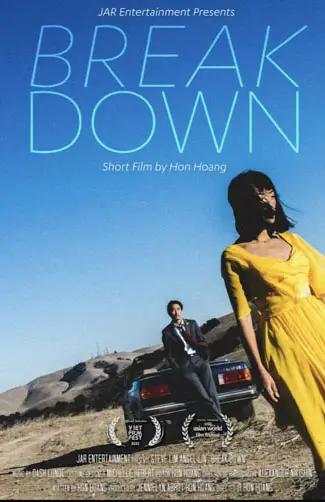 "…a beguiling, emotionally vivid short..."