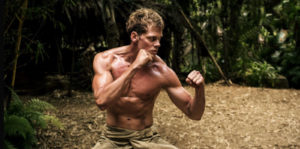 TORONTO INTERNATIONAL FILM FESTIVAL 2023 REVIEW! Bloody action movies are almost a dime a dozen, and the fifty I see each year often blur together. Director Moritz Mohr's Boy Kills World slows the pace and offers more than blood, guts, and over-the-top violence; well, at least enough to stand out of the pack.
In a dystopian future, the world is ruled by the psychotic dictator Hilda Van Der Koy (Famke Janssen). Hilda treats her people to the annual event known as The Culling. Here, politically defiant citizens are "culled" into a televised gladiatorial fight to the death. A popular breakfast cereal company sponsors the bloodsport.
Meanwhile, Boy (Bill Skarsgård), an orphan in the jungle, is being trained by the Shaman (Yayan Ruhian). The Shaman's tactics are brutal and would put Mr. Miyagi to shame. Boy's one purpose in life is to assassinate Hilda, who ordered the public murder of his mother and sister. Before he could escape Hilda's men, Boy's tongue was cut out, and his eardrums burnt. He's learned to read lips to survive.
Like all good killer action movies, Boy Kills World shows Boy climbing his way up a ladder of mini-bosses to ultimately get the top. The first comes in the form of The Cullen TV host Gideon Van Der Koy (Sharlto Copley), the husband of Melanie. The battle is bloody, but Boy teams up with fellow dissidents Basho (Andrew Koji) and Benny (Isaiah Mustafa) along the way. Now add the Boy's good luck charm, the ghost of his murdered sister, Flower Girl (Jane de Wet), and the team is formed. Because of all the hallucinogenics the Shaman had fed into Boy, Flower Girl becomes both a guide and a liability as he's duty-bound to protect his dead sister's ghost (I know).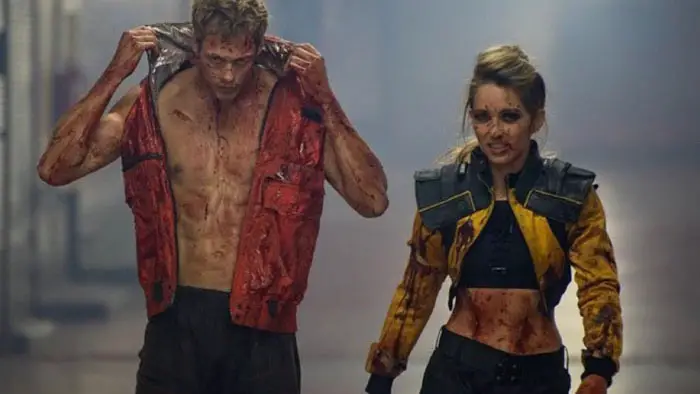 "…Boy climbing his way up a ladder of mini-bosses to ultimately get the top."
A steady stream of bloody and gory fights lies at the film's heart. Limbs are dismembered, and faces are rearranged. Each death is gruesome, and blood is splattered everywhere. Mohr masterfully gives each of these action pieces a distinct personality so they feel unique to one another and levels up the difficulty for Boy and his gang. Bear in mind the whole ordeal can feel relentless for the faint at heart as Boy Kills World is intese.
Bill Skarsgård is brilliant as the mute Boy who speaks only in voiceover. The physical demands of the character are impressive, particularly for a guy who barely dropped a sweat in John Wick 4. The contrast between Boy and Marquis is as vast as the Grand Canyon. I always admire an actor who can build sympathy and give a vibrant performance purely through body language.
Now add an all-star cast of character actors, many with an action background of their own. Copley and Andrew Koji are almost unrecognizable as Gideon and Basho, with accents and attitudes that stand apart from previous work. The gimmick of Isaiah Mustafa is hilarious and brilliant and must not be spoiled. Also not to be spoiled is the ruthless matriarchy of Michelle Dockery, Jessica Rothe, and Famke Janssen. I love the unexpected nature of these characters and constantly being kept on my toes storywise. To me, Brett Gelman shines as the slightly morally ambiguous Glen Van Der Koy. Let's just say he gets what he deserves, yet I felt a twinge of sympathy… just a twinge.
In the end, Boy Kills World is a two-hour roller coaster. You'll leave exhausted and beaten, yet feeling like maybe you too can defeat the fascist dictators in your life. Oh, who am I kidding?
Boy Kills World screened at the 2023 Toronto International Film Festival.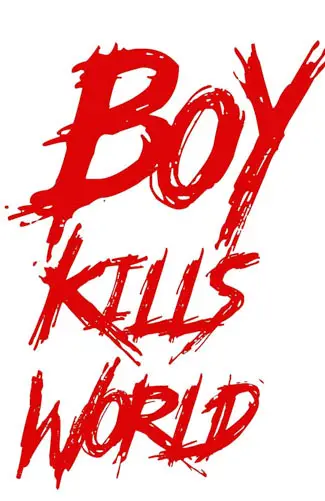 "…you'll leave exhausted and beaten..."