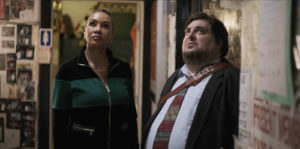 CINEQUEST FILM FESTIVAL 2023 REVIEW! Movies about sports, particularly boxing, are often about winning and climbing to the top. In writer-director Rob Margolies' feature film, Bobcat Moretti, sport becomes a way of life, a road to salvation, if you will. Co-writer Tim Realbuto stars as Bobby Moretti, an obese and broken man recently diagnosed with Multiple Sclerosis. Now living as a burden to his brother Charlie (Matt Peters) and wife Debra (Taryn Manning), Bobby is told in no uncertain terms that he needs to start paying rent and take responsibility for his life.
Dejected, Bobby walks into a boxing gym run by Jo (Vivica A. Fox). He asks her if she's hiring. Even though Jo says no, Bobby offers to clean the sweat and blood off the boxing ring mats in exchange for being trained. Jo sees Bobby's determination and reluctantly agrees. Just as he starts, Bobby meets Boots (Sheria Irving), and the two bond as underdogs in life.
Several months later, Bobby has lost a ton of weight and become a fixture at the gym, but he still carries the baggage of a loser, almost a mascot to the gym. He spends so much time there that he's neglected his responsibilities to his brother and his family. He also stands back and watches Boots endure her abusive relationship with her baby daddy, Tony (Jay Hieron). Bobby also carries a few secrets of his own, such as why he chose Jo's gym, his current marital status, and his fight with MS.
Bobcat Moretti is that inspirational film we've been waiting for all year. Inspiration comes from the relationship built between Jo and Bobby. Jo is more than a boxing coach; she's practically his life coach. She uses the discipline of boxing to focus Bobby's attention on tackling one problem after the other. Jo uses the ring as a metaphor for Bobby to fight through the problems of his life and figure out the answers. It's almost spiritual in the way she views Bobby's MS and must be seen to believe.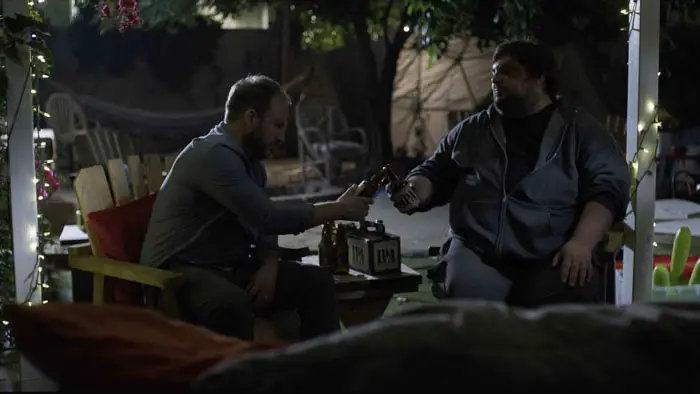 "…Bobby offers to clean the sweat and blood off the boxing ring mats in exchange for being trained."
Yes, there is a big fight against Tony in which Bobby finds himself way over his head. This fight, though, is not the story we've seen in classics like Rocky and Creed. There's a reality that's placed in this story that becomes of film's symbolic focal point.
Realbuto is put through the wringer as Bobby. Yes, he's very obese at the beginning, and by the second act is cut down to a nice fighting size. He carries much of the film's emotional weight and garners our sympathies beautifully. We want to root for him while never stepping into the realm of pathetic. We know Vivica A. Fox can act, and she holds nothing back as she takes her role as Bobby's "sponsor" deadly seriously. Can she run a boxing gym? Hell yeah, and she brings the life experience and wisdom of a Mr. Miyagi to reach Bobby in his time of need.
Bobcat Moretti is a very independent story. When you see him, Tim Realbuto isn't exactly the Tom Cruise type that Hollywood is looking for. He's one of us, which makes one believe we could follow in Moretti's footsteps to tackle whatever problem we face. If I were to call out a weakness, it's the boxing-match cinematography. This is a low-budget indie, and this story is just about the actual boxing.
Bobcat Moretti speaks to everyone with its inspirational story. Our only limitations are the ones we place on ourselves. Yes, sports are about winning, but not necessarily coming in first place or strapping a championship belt around our waist. Winning in the sense of overcoming our weaknesses and coming out on top.
Bobcat Moretti screened at the 2023 Cinequest Film Festival. For more information, visit the Bobcat Moretti official website.