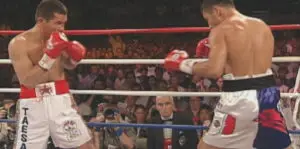 SFFILM FESTIVAL 2022 REVIEW! La Guerra Civil is a knockout documentary. Directed by Eva Longoria, the film works from the boxing canvas of the Latin-American experience embodied by two iconic athletes at the height of their careers to tell a story grander than their own. On June 7, 1996, Julio Cesar Chavez, a Mexican national, went into the ring against first-generation East Los Angeles Latino Oscar De La Hoya. Their stories represented the Latinos whose roots were firmly entrenched in Mexico and those who embraced Los Estados Unidos. This wasn't just a boxing match. It was a civil war.
As any good documentary does, La Guerra Civil goes beyond the tertiary facts to mine a more profound meaning and, ultimately, a universal truth. The stage is set for a battle between Chavez and De La Hoya. But Longoria shrewdly goes back and hones in on the stories behind the two boxers. Why did the two have such meaning within the Latino community?
Chavez came from the roughest neighborhoods to realize a talent in boxing that surpassed even his older brothers. He would fight round after round in Tiajuana on an empty stomach while phoning his mother back home to promise her a new home. Chavez fought for his material success and the redemption of his culture. Meanwhile, a young De La Hoya grew up in East Los Angeles, California. The child of Mexican immigrants, De La Hoya grew up in a home where boxing matches on TV were cause for carne asada and celebration. Chavez fights were an event. Meanwhile, little De La Hoya was being groomed by his father to become a remarkable athlete of his own.
"…shrewdly goes back and hones in on the stories behind the two boxers."
Intercutting between promoters, commentators, and the boxers themselves, La Guerra Civil maintains a tight grip on not only the story of these two men but of what they represented and why they resonated with millions in a cultural crossroads. While De La Hoya trained relentlessly, it seems that Chavez was succumbing to his demons and reluctantly passing on the belt. At one point, the two recollect the same interaction; De La Hoya is heading out for a training run while Chavez, drunk and coked-up, is fumbling to his hotel room. One was hungry; one was tired.
The film, classicly, leads to the first showdown in Las Vegas in 1996. There are no spoilers here as this is history: De La Hoya wins on a technicality. We don't care about the official outcome so much as we do the cultural meaning of it all. Commentators who were there chime in, mentioning that there is always an older lion and a younger one fighting for dominance — universal truths surface. Yet a greater one is still to be discussed.
Who are we if not for the pride we have in our origins? This is what Chavez, De La Hoya, and Longoria all pursue via filmmaking or boxing while taking the audience along for the lesson. While La Guerra Civil can't touch the Spielbergian heights of an Errol Morris doc, we get an absorbing true-life story on the conflicting paths of similar humans.
La Guerra Civil screened at the 2022 Sundance Film Festival and the 2022 SFFilm Festival.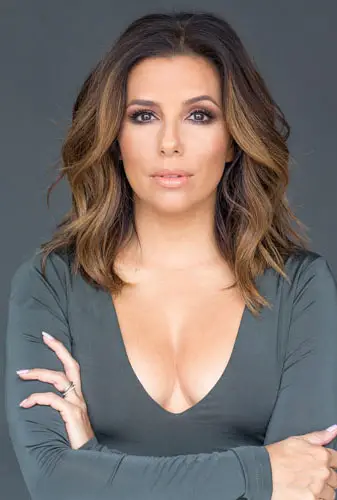 "…an absorbing true-life story..."