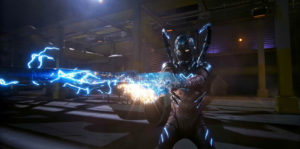 NOW IN THEATERS! Full Disclosure: I'd never heard of the Blue Beetle until director Angel Manuel Soto and screenwriter Gareth Dunnet-Alcocer's Blue Beetle was announced. I don't know, nor do I care about the lore. All I ask is that they make a good movie, especially given the James Gunn DC reboot looming over all of its current releases.
Blue Beetle begins on Kord Industries. Its founder Ted Kord discovered an alien artifact, the Scarab, which held great powers to anyone it melds with. Ted was never chosen for that honor. But he created technology to replicate what the Scarab might have done and became the legendary Blue Beetle ages ago. Now, Ted Kord is dead, and his sister, Victoria (Susan Sarandon), has taken over the company, found the Scarab, and plans to create an army of Symbiotes for the highest bidder. Her bodyguard, Carapax (Raoul Max Trujillo), is the guinea pig super-soldier.
Seeing the greed in the dangerous Victoria, Ted's daughter, Jenny (Bruna Marquezine), steals the Scarab and gives it to an unwitting Jaime Reyes (Xolo Maridueña), who was applying for a low-level job at Kord Industries that day. When he takes it home, the Scarab chooses Jaime as the symbiote's new host, and he becomes the Blue Beetle. Now Victoria will stop at nothing to get the Scarab back, even if it means killing Jaime and his loveable immigrant family.
I'm leaning barely to the recommended side of the equation here. There's enough good in the very flawed Blue Beetle that it is worth taking young, but not too young, viewers to see it. The biggest downfall is the general plot. The narrative is pretty straightforward. The good guys need to defeat the bad guys. There are few surprises or beats that are not formulaic.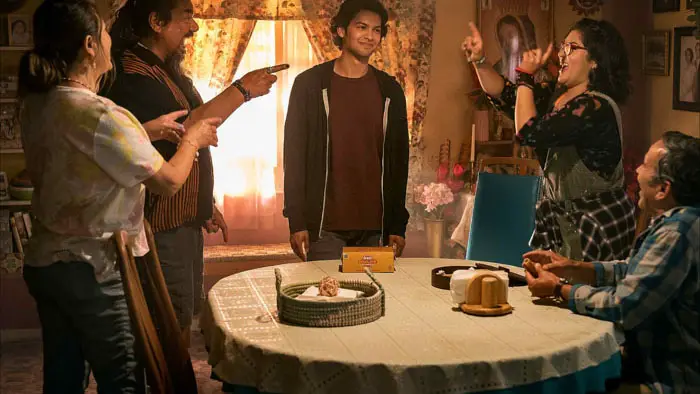 "…the Scarab chooses Jaime as the symbiote's new host, and he becomes the Blue Beetle."
Plus, with a better focus on character development, this could have been much better, if not great. We only sympathize with Jaime because he's a nice, good-looking young man who is also an immigrant for more sympathy juice. He's put in danger along with his family. Yes, that's sympathy, but that's hardly an inspiring character study. Ultimately, the theme becomes "My family is better than yours." How does Jaime change throughout the film? By the end, he has thoroughly learned his superpowers with the help of his family. That's not the hero's journey audiences, even young ones, deserve or want more from their superheroes.
That said, there's good in the Blue Beetle. Maridueña is a very likable person. Belissa Escobedo is also likable as Jaime's almost side-kick, Milagro Reyes. Adriana Barraza, as Nana Reyes, a gun-toting grandma (it's in the trailer), is fun, and the film finds a way to justify her skills. George Lopez is fine as the conspiracy tech-genius Rudy, who built a device long ago that just happened to solve the one major problem Jaime needed solving.
I appreciate that this was made with a modest Hollywood budget for the kind of film it is. It has decent effects for a mid-range superhero movie. The inclusion of Mexican culture works the same way the inclusion of Chinese culture does in Shang-Chi (though the MCU title did it better). The focus on family and the inclusion of a romance jettison the film across the recommended line.
Overall, Blue Beetle is worth seeing, but it has many missed opportunities. Here's how Soto and Dunnet-Alcocer could have made a lot of money. Give Jaime a fatal flaw that young kids, particularly boys, can identify with. Maybe devotion to family or casting aside Gen Z narcissism for the betterment of the world. Something to give him an inspiring story to tell. Now remove the dick jokes and the swearing. Now you have an excellent, wholesome film to which parents can bring their kids. It's a proven measurement of success both creatively and financially.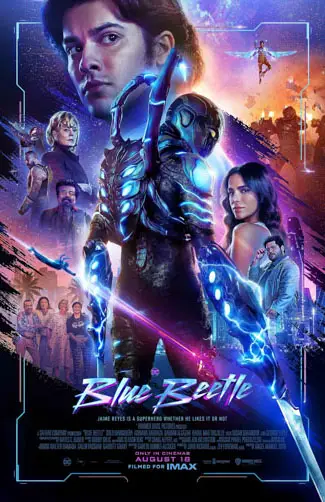 "…worth seeing, but it has many missed opportunities."