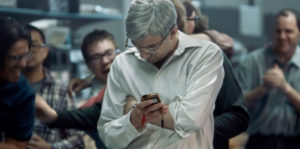 What happens when you mix polite Canadian nerds with a ruthless Gordon Gecko-type businessman? Does greed and power truly corrupt us all? These are some of the interesting questions posed in director/co-writer/co-star Matt Johnson's BlackBerry. Co-written by Matthew Miller, this comedic drama is based on the book Losing the Signal by Jacquie McNish and Sean Silcoff, about the rise and fall of the company that created the BlackBerry phone.
Jay Baruchel stars as Mike Lazaridis, the co-founder of Research In Motion (RIM). Mike and his best pal Doug (Matt Johnson) are the awkward Canadian tech brains behind a revolutionary phone device called the "Pocket Link," later more popularly known as the BlackBerry. The year is 1996, and they go to pitch their "computer inside a phone" device to a no-nonsense, hockey-loving businessman named Jim Balsillie (Glenn Howerton). Their meeting is a disaster, but in a quiet moment in the office, Jim stares at the phone diagram and becomes inspired.
Jim convinces Mike that they need a prick like him onboard so that they don't keep getting pushed around. He turns out to be right. Jim, through force of will, instantly gets a dead-in-the-water deal off the ground, and a true company is born. But at what cost? What started off as a group of fun-loving geeks who had a sacred movie night every week slowly turned into a soulless corporation with no time for slacking off.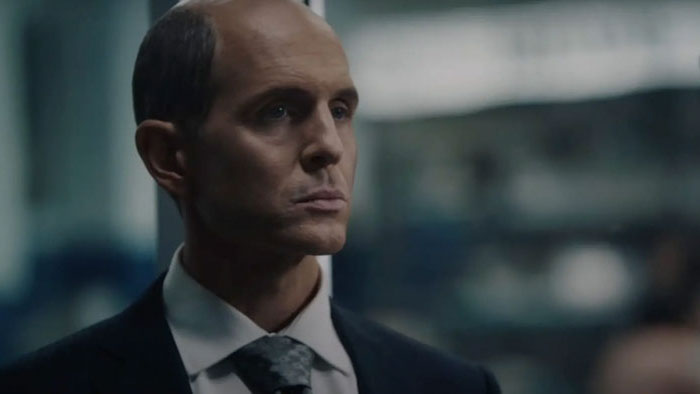 "…the rise and fall of the company that created the BlackBerry phone."
BlackBerry will definitely draw parallels to The Social Network. Before that movie, it may have been difficult for audiences to imagine films about technological innovation being entertaining. But considering the reception to that Fincher film proves that is no longer the case. Miller and Johnson keep things interesting by examining the people behind the technology. Mike has a Breaking Bad type of character arc, except instead of dealing meth, he becomes a greedy, uncaring douchebag like his new partner Jim Balsillie. This is a cautionary tale at its heart, told from a mix of drama and humor, much like the story of the BlackBerry phone itself.
Howerton is pitch-perfect as a despicable character that you can still root for in spite of it (since he's helping out kind geeks, even if it is out of greed) because he's been doing it for years on television. Baruchel has made a career out of playing lovable loser nerds, which is how Mike starts out here. However, as I mentioned, his character evolves, and the actor does an excellent job of making it seem natural and realistic.
There is a memorable cameo from Cary Elwes (who hasn't loved this versatile actor ever since The Princess Bride?) as Yankowski. He's a businessman who goes toe to toe with Jim. The tough-as-nails Michael Ironside shows up as Purdy. He's hired to whip the boys at RIM into shape. The cast did a great job of keeping me invested for the duration of the almost two-hour runtime.
I did not know the story behind the BlackBerry beforehand. However, the script and the acting made me feel for the characters when they deal with the "gut-punch" reaction of seeing the iPhone take away everything they had built up in one fell swoop. Like Air, BlackBerry is another movie where we all know the ending, but the fun is in finding out how we got there.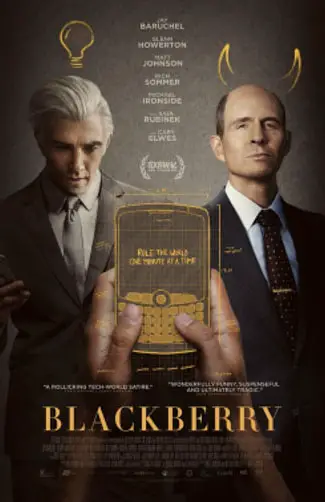 "…the cast did a great job of keeping me invested..."