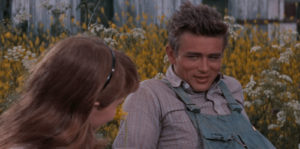 100 YEARS OF WARNER BROTHERS FILM REVIEW! "In a hundred years, when you and I are both long gone, any time someone threads a frame of yours through a sprocket, you will be alive again." So says Jean Smart's character from Babylon, Elinor St. John. Superstar James Dean left the land of the living way too soon at the ripe age of twenty-four, but he still achieved silver-screen immortality, starting with East of Eden.
The story is an updated take on the Biblical tale of Cain and Abel, which is about two opposite brothers who cannot get along for the life of them. The great John Steinbeck wrote the original novel, which Paul Osborn adapted for the screen. Director Elia Kazan's film is beautifully shot in CinemaScope, with the setting of 1917 northern California providing gorgeous, colorful scenery from the get-go. Dean plays a rebellious, trouble-making young man named Cal, who competes with his strait-laced brother Aron (Richard Davalos) for the love and attention of their Bible-thumping father, Adam (Raymond Massey).
East of Eden starts with Cal finding out that his mother, Kate (Jo Van Fleet, who amazingly won an Oscar for her screen debut here), is alive in a nearby town after having grown up believing she was dead. As an audience, we do not find out the information about his mom until later. All we know is that Cal is stalking an older woman, which makes an off-putting introduction. There's a stunning shot of Dean riding solemnly on top of a train to go back home.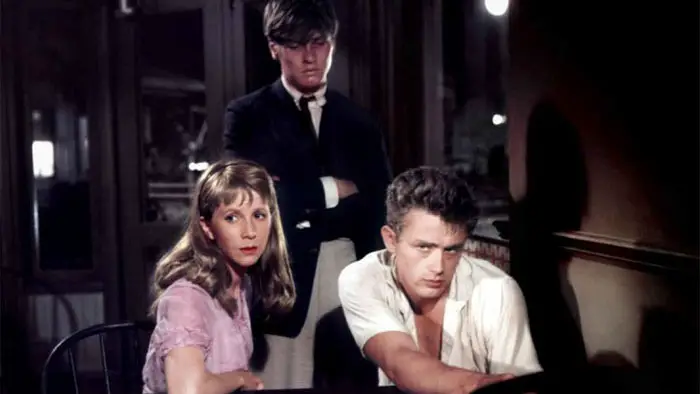 "…competes with his strait-laced brother…for the love and attention of their Bible-thumping father…"
We are then introduced to Aron's girlfriend, Abra (Julie Harris). She says that the girls in town call Cal "the prowler," further confirming that there's something wrong with this guy. Some of them love troubled men, though, and it's apparent in the way she talks about him that Abra has a thing for Cal. This is another source of conflict and tension for the siblings down the road.
Frankly, the story is not outstanding. Cal's longing for parental approval and his sibling rivalry did not strike any chords for me because of the cheesy way in which it plays out. From reading a story about a frozen mastodon, Adam gets the idea that he should start a refrigeration business with ice stored on train cars. The train with his livelihood gets delayed, causing the ice to melt, which throws the business and his savings down the drain. Cal makes it his mission in life to make the money back for his father. This feels a bit off because he carelessly destroyed a bunch of his father's ice earlier on in a fit of jealous rage.
However, Dean's style of method acting and sheer charisma jumps off the screen (along with artful cinematography). He's a star from the start, even in the beginning when I was trying to figure out if his character was a creepy stalker. The actor's got that "it" factor, where your eyes are glued to his every move throughout East of Eden. When Abra eventually leaves Aron for Cal, as an audience, you say well, of course! Jimmy Dean, as they called him, will stand the test of time due to his powerful on-screen presence because once a star is born on celluloid, they live on forever.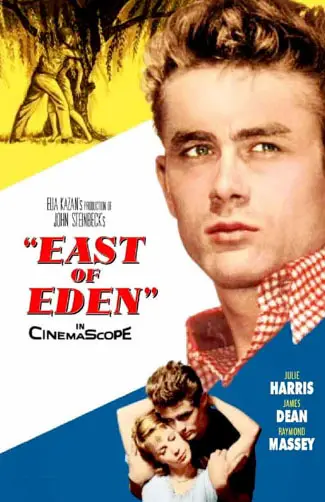 "…once a star is born on celluloid, they live on forever."