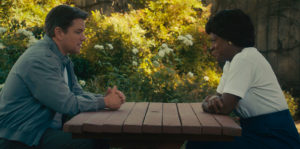 NOW ON AMAZON PRIME! If ever we needed inspiration in our current state of existence, let it be the founding of Nike's Air Jordan. Directed by Ben Affleck and written by Alex Convery, Air is the story behind how Michael Jordan and Nike revolutionized the global shoe market with the Air Jordan brand. At the same time, the company allowed a gifted, young, Black man the ability to become one of the wealthiest and most successful athletes ever. And he was an absolute game-changer.
"…how the Air Jordan brand came to be…"
1984. Nike Headquarters. Beaverton, Oregon. The shoe company's on-the-chopping-block basketball division needs an injection of success. Shoe salesman Sonny Vaccaro (Matt Damon) has to produce a winning deal to stay on the playing field with Converse and Adidas. A gambling man literally, Sonny is dedicated to basketball and refuses to give up. Of course, we know the outcome, but how the Air Jordan brand came to be is what the film is all about — the journey, not the sport. Guiding Sonny's sales pitch are the 10 Principles of Nike, originally laid out by marketing director Rob Strasser (Jason Bateman) in 1977. Number nine is "It Won't Be Pretty," and number one is "Our Business is Change."
The pressure of Nike's co-founder and former chairman Phil Knight (Ben Affleck) on Sonny to keep Nike's basketball division alive is fierce but cloaked in his higher vibe existence and success. Rob is set on using three or four lesser-known players, which was standard for them at the time. Even though it's highly unappealing to corporate, Sonny pushes to sign the unknown quantity named Michael Jordan, though his potential is great. Unfortunately, the roadblocks of money, Jordan's dislike for Nike, and a ruthless gatekeeper sports agent named David Falk (Chris Messina) make Sonny's prospects dismal. Along the way, there's some great humor, dialogue, acting, and editing to capture the audience's imagination.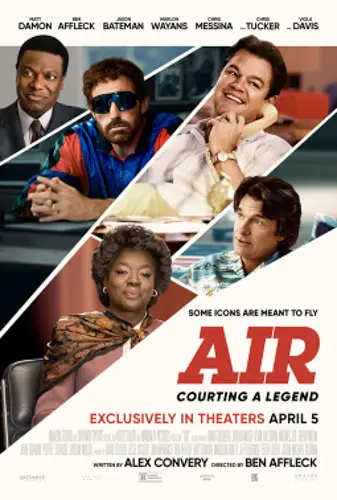 "…changed the world of athletes and inspired many young Black men to be like Mike."