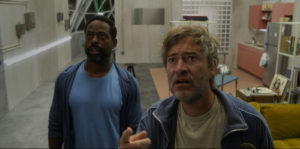 When the world undergoes an apocalyptic event, a dystopian society emerges. A totalitarian government takes control, and civilization is thrown into an abyss. Then a hero must rise against all odds to restore order. That's not director Mel Eslyn's Biosphere. Co-written by Eslyn and star Mark Duplass, this post-apocalypse comedy is an unconventional, weird, and crazy rendition of the subject. It challenges the genre's stereotypical tropes and common elements and takes an absurdist dig into the ideas of evolutionary change, survivability, and adaption. And these are half of the subtexts you might end up noticing.
The story begins some years after an event destroyed the planet. The last two men on Earth, Billy (Duplass) and Ray (Sterling K.Brown), childhood friends, now live in a bio-dome, as the rest of human life has been eradicated. While the darkness lurks outside, the two friends have maintained a water filtration system and tend to the little plant life and a fish pool within. This helps both men find some semblance in their everyday life. But, in their efforts to survive and outgrow the dystopian reality, will their makeshift bio-dome win over the one nature has put in place?
Biosphere begins as a buddy film, with the two protagonists cracking jokes and taking a dig at each other, resulting in several humorous shenanigans. From thereon, owing to its subtexts of ecological preservation, the movie strikes a discussion on evolution. "Life Finds A Way," the famous quote from Jurassic Park, finds its place here, both literally and figuratively. Through a twist of events, Billy and Ray's conversation morphs to stereotypical masculinity. In its 106-minute runtime, the story's ambitious and daring subject deepens into an intimate character study. The result is a hilarious and effective effort that blends dramedy with sci-fi and yet, remains conversationally philosophical.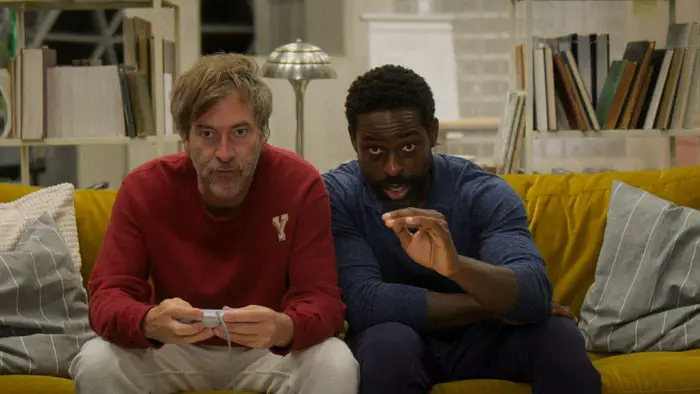 "…childhood friends, now live in a bio-dome, as the rest of human life has been eradicated."
Both Duplass and Eslyn have structured the screenplay well, unraveling themes shell-by-shell. The dialogue and chemistry between the protagonists ensure that the viewers catch on with the absurd weirdness. With each revelation, the absurdism increases, simultaneously amplifying the intrigue and interest in the movie. They'll push you to look at this genre with a distinguished analytical approach while making you gaze through new perspectives on nature conservation. The filmmakers raise doubts about whether life finds a magical way to survive when all hope is lost and whether humanity holds a chance to lead that change.
Another provocative aspect of the picture is that it only stretches so far into the dystopia. Instead, Duplass and Meslyn have taken the current threats to the planet and have contemplated a future that may not be too distant as far as post-apocalyptic settings in cinema are concerned. Hence, the absurdist narrative of Biosphere convinces us of a vague possibility that it might be biologically or scientifically sensical in next-stage evolution.
However, there are moments when these thoughtful discussions don't turn into any conclusive explanation or interpretation. Both characters' arcs venture into individual directions as their thoughts intertwine and intersect. Since they leave much to interpretation, it gets challenging to understand the symbolization Eslyn is hoping to achieve. This is why the film is a mixed experience overall.
Biosphere, like its plot, is tough to assess. The idea is substantially unique, so kudos to the cast and crew for executing it in a feature. At the same time, the final results don't fill up the intended discussions much. Hence, while this funny and humorous study of a post-apocalyptic change excels in exploring some of its more philosophical traits, the substance regarding its core story is not quite there. Yet, this deserves a watch for its comedic rendering of the complex storyline.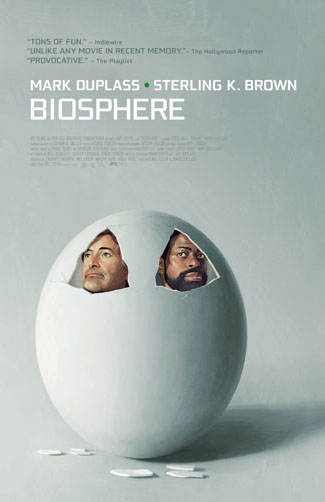 "…substantially unique..."